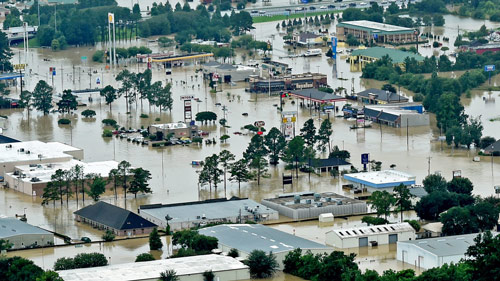 Whenever a natural disaster strikes, like the hurricane that struck Charleston, SC last year, Partner Companies in 1-800-SWEEPER know that they will be called upon to help with the aftermath and cleanup. But what happens when the disaster itself – like the devastating flooding Louisiana is experiencing – destroys the equipment that will be needed to help clean the areas affected?
With the recent storms and flooding in Louisiana, Warren Burge and his company, Clean Sweep Inc., were hit hard and in need of some assistance.  Flooding throughout large parts of Louisiana was triggered by torrential rainfall of up to 31 inches over several days. This series of storms caused more damage than Hurricane Katrina in three or four Parishes, according to Warren. As a result of the flooding, Clean Sweep lost a number of trucks and the company was scrambling to keep up with current business and prepare for the cleanup when the flood waters receded.
The 1-800-SWEEPER organization and it's partners were more than willing to offer Warren any help they could.  Several partners offered Clean Sweep much needed equipment and other resources.  Offers to help with loaner equipment literally came from across the country, as partners in California and on the Atlantic coast reached out to ask Warren how they could help. Additional assistance was provided by 1-800-SWEEPER Vendor Partners, Schwarze Industries and NiteHawk, Tymco and other suppliers to the industry.
In the end, Warren only needed two parking lot sweepers. Because of their closeness geographically and personally, the decision was made to coordinate the movement of two Schwarze 348's from a nearby fellow partner of 1-800-SWEEPER to Clean Sweep in Baker, LA.  1-800-SWEEPER's home office carried the ball through much of this exchange by creating a list of available equipment and acting as liaison in the initial discussions between the two companies.
Our shared struggles and challenges are seldom as immediate or consequential as when natural disasters occur. There is, however, always comfort in the shared bond between members of the 1-800-SWEEPER extended family of companies.