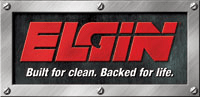 Since 1914, Elgin Sweeper has been hard at work cleaning America's roadways.
Elgin has evolved its line of sweepers through the years and continues designing new products. Today, Elgin equipment utilizes every variation of current sweeping technology — mechanical, pure vacuum sweepers, regenerative air, alternative fuel sweepers, waterless dust control and high efficiency filtration — providing customers a sweeper to best match their environment and meet the customer's needs.
In January 2018, Elgin introduced a new and innovative configuration of its popular Crosswind® regenerative air sweeper. This newest model utilizes a single-engine with a variable-speed device installed between the chassis engine and transmission allowing the engine to simultaneously power both the truck and the sweeper.