For David McCaskill and many other Columbia, SC residents, there will be no forgetting the October 2015 flood that came as a result of Hurricane Joaquin. The original weather forecasts on Thursday, October 1st called for heavy rains and possible flooding south of the capital city, so fears were not that high in the beginning. But it just kept raining. It rained consistently all day Friday and by Saturday night the rain was still falling. What was dubbed the "1,000-year" rain eventually dumped more than 20 inches of rain over some parts of South Carolina over a single weekend.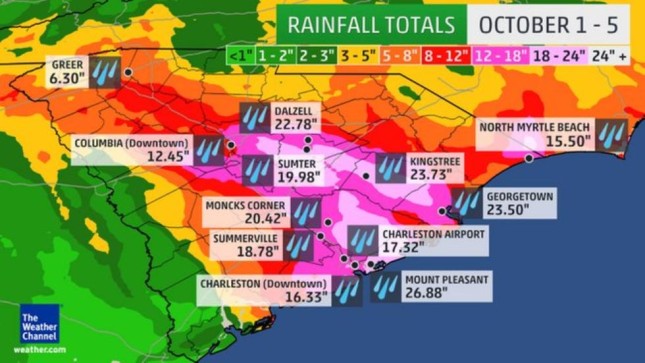 David owns Accusweep, and has two locations in South Carolina – one in Charleston and one in Columbia where he lives. One of his clients is a former Kmart shopping center that was recently renovated into the new Rosewood Commons. Some of the anchor stores including Marshall's and PetSmart had already moved in before the flood struck. So on Friday, just to be proactive, Accusweep installed flood barriers on the vacant spaces around the center. These structures were 4 feet tall and would be able to hold the waters back from the building.
Saturday night the rain continued, and David sent his employees out to sweep parking lots as usual but asked them to drive past the new shopping center and check on it throughout the night. It was Gill's Creek that concerned him. The creek ran in front of the Rosewood Commons strip center.
All was well until 3:45 a.m. when David got a call that the water was rushing out of the creek and racing toward the shopping center – a veritable river by this point.
David looked out his bedroom window and saw a small river coursing through his own front yard. So he ran out to the carport where he found his wife's car sitting in water that was almost touching the underside of the car by that time. His carport was flooding. He quickly moved his wife's car to higher ground.
Rosewood Common store managers had been called and everybody headed toward the strip center. Eventually people realized the water was too high and they were probably not going to make it into stores safely. Meanwhile, David got in his truck and started driving out of his neighborhood. That's when he got a little nervous as he drove past a neighbor's house that had an interior light on, and he saw the water that was level with their dining room table. But David never thought about turning back. He drove different routes around the city till he found one that was passable.
Eventually David DID make it to the shopping center at about 4:45 a.m. At that point the water was 3.5 feet up the building and still holding steady behind the flood barriers. A few hours later though, after several dams broke and more rain fell, the water rose to 7 feet; far surpassing the barriers and flooded the new center making  the current tenants merchandise a total loss.
A couple days later, after the floodwaters had receded, David and some of his employees went to clean parking areas and remove their flood barriers. The center's owners were there meeting with insurance companies. In the end, it was determined they were going to have to completely rebuild the center. One strange thing that David remembers seeing is a large number of dead fish inside the dumpsters. It seems as the waters raged the fish were pushed into the dumpsters and then once the waters receded, the fish had no way to get out.
Since David has a second Accusweep location in Charleston SC, he headed there to help with cleanup. The flooding in Charleston was nowhere near as bad as in Columbia. The biggest cleanup issue for David and crew in Charleston was sand and debris deposited in parking lots by the hurricane.  So Accusweep went to work removing the mess using a combination of Tymco 210, Schwartze 347, and a Schwartze 348I sweeper with 39-inch diameter broom with tilt and a hand hose for hard to reach corners of parking areas. That cleanup seemed like a breeze compared to the devastation caused when dams gave way around Columbia.
Not all of the dams that broke were state or federally owned either. Private dams are not covered under federal emergency funds Homeowners and neighborhoods in affected areas will have to decide how they are going to replace dams that could cost up to $1 million.
In the end, Columbia and the immediately surrounding areas experienced 15 to 20 inches of rainfall over one 3-day period, dams breaking, homes and businesses flooding, and loss of human life (19 people died.) All told, residential losses far outweighed any commercial loss.
Fortunately for David and the McCaskill family, his home was untouched except for some ductwork under the house. For two weeks his neighborhood had no water, but one of his employees brought drinking water each day from his home in Kershaw county (about 60 miles away).