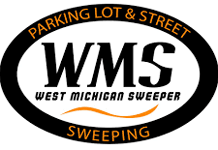 Before they were even officially on board as a 1-800-SWEEPER Partner company in Grand Rapids, Michigan, Mat and Stephanie Andrews had the opportunity to attend a 1-800-SWEEPER Regional meeting outside Chicago in April. It was at that meeting, sharing information, strategies, and operating tips with other like-minded members of the 1-800-SWEEPER Partner companies, that Rich Katz of TKG Environmental Services Group suggested an educational approach to selling sweeping services to property managers contrasting Common Area Maintenance Costs (CAM) vs. capital costs.
Right then and there, Mat was sold on becoming part of the shared bond that exists between members of the 1-800-SWEEPER extended family of companies.
10 years prior, Mat was a project manager at a security company and had looked at purchasing an existing sweeping company in the Grand Rapids, MI area. When that deal fell through, Mat and Stephanie didn't abandon the shift to entrepreneurship – they simply delayed it.
In 2013, when a small local sweeping company showed up for sale on Craigslist, the couple was ready! After evaluating the business profile, and identifying improvements, they purchased West Michigan Sweeper. Since acquiring the company and "right-sizing" rates, the couple has added two additional sweeping trucks in 2016. Previously focused on parking area sweeping and power washing, the new vehicles have allowed West Michigan Sweeper to expand into construction cleanup jobs. The plan on the books today is to acquire an additional truck to help further develop their construction sweeping. Currently, the company has four trucks and a mobile power washing trailer.
Mat tells us that trial and error are good "teachers" in the sweeping business. A recent example: the crew was called into a minor league baseball ball club's parking lot to clean up following a Color Run race. After the initial cleanup, Mat discovered that the water sprayed on runners to keep them cool, when mixed with the colored "Fun-Run" corn starch, leaves a stuck-on mess.  Despite this, Mat found a way to finish off the job by using pressure power washing to completely extract the colors. Lesson learned – and shared with the organizers of the event!
"Membership in BOMA – the West Michigan chapter of Building Owners and Managers Association – has been particularly helpful for meeting and helping to educate clients who are focused on quality of service in addition to the price of contracts," says Mat. Of course, as with all companies in the industry, a typical challenge that arises is finding good quality help. 1-800-SWEEPER's new Applicant Pro service should prove helpful in pre-testing and qualifying applicants before Stephanie or Mat ever even need to speak with potential employees.
Please reach out to Mat & Stephanie and welcome them to the 1-800-SWEEPER family. We are glad to have them part of our organization!