About Us
1-800-SWEEPER Nationwide Service Alliance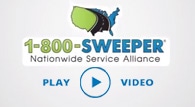 1-800-SWEEPER is a nationwide service network of independently owned power sweeping companies. Our organization brings sweeping companies from coast to coast under a unified marketing and service structure. Participating 1-800-SWEEPER partner companies provide parking lot sweeping, street cleaners and street sweeping, along with a variety of construction-related power sweeping services. Our reliable, value oriented power sweeping services a diverse customer base including nationwide and regional facility management customers as well as municipalities and local area building contractors.
Our History
1-800-SWEEPER membership started with 21 companies and is poised to grow to 75 companies and beyond with one sweeping service contractor partner per market area. 1-800-SWEEPER partners all share in the combined cooperative marketing of the organization through a unified phone number – 1-800-793-3737 (SWEEPER, of course!) – that appears on all members' vehicles.
Listen to President Mike Lucht discuss company history and business strategy on StartupNation Radio.
Creating Competitive Advantages for Customers, Partners and Vendors
1-800-SWEEPER partners share valuable benefits in addition to unified branding and centralized internet marketing. The organization combines purchasing power with strategic vendor partners to create competitive pricing on parts, supplies, equipment, and fuel for partners in each of their respective local markets while enabling growth opportunities for vendors. Leveraging combined buying power through this co-op model also reduces customer costs and allows 1-800-SWEEPER to be a truly sustainable solution.
Commitment to Quality and Ethical Standards
Each partner in 1-800-SWEEPER belongs to NAPSA – the North American Power Sweeping Association.  NAPSA is a national nonprofit trade association committed to promoting and educating the power sweeping community while enhancing the environment. A number of 1-800-SWEEPER partner company executives are current or former NAPSA board members.
Meet Our Board of Directors
The Board of Directors of 1-800-SWEEPER consists of industry experts with years of experience fulfilling the sweeping needs of customers nationwide. Our Board members include:
Giovanni Recalde – Atlantic Sweeping and Cleaning, Inc. / Alexandria, VA
Mike Lucht – Progressive Sweeping Contractors, Inc. / Toledo, OH
Scott Duscher – Agua Trucks, LLC / El Mirage, AZ
Jodie Thompson – Mister Sweeper / Dallas, TX
Charles Joseph – All Care Services, LLC / Kansas City, KS
People You Can Trust
The environmental experts at 1-800-SWEEPER have the personnel and the equipment to see that your parking lot sweeping or street sweeping job is done right, 24/7, 365 days a year. Interested in learning more about the Premier Alliance of Power Sweeping Service providers? Find the best sweeping service near you to request a consultation today!
---

To further serve the communities in which we work and live, 1-800-SWEEPER created the 1-800-SWEEPER Foundation to help local areas across the United States clean up following natural disasters, contribute to qualified environmental and community beautification initiatives and support local Wounded Warriors programs. Read more about the foundation or contribute HERE.