The Sweeper Swag Store is the exclusive place for you to purchase all types of 1-800-SWEEPER branded products that can be co-branded with YOUR sweeping company logo. We have received numerous requests from Partner companies to "get some of that cool swag" worn and carried by folks from 1-800-SWEEPER HQ.
Now, available in a link from our website, we have put together a portal where it is super simple and economical to purchase embroidered or screen-printed clothing, mugs, and more!
From stainless steel tumblers to can koozies, men's and women's fleece jackets to professional button-down shirts, to sweatshirts and tee-shirts, the Sweeper Swag store has a ton of selections.
To really make a statement, put your company's logo on the front of a shirt or jacket and have the supporting, 1-800-SWEEPER logo on the back as shown below: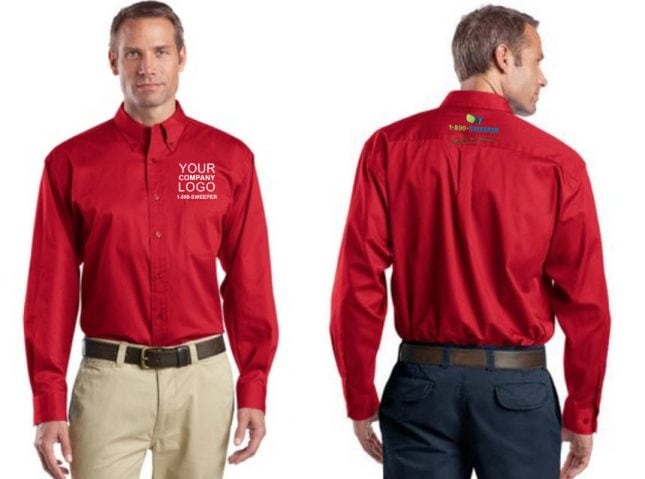 Ready to get some gear for your customers or employees? Just click the Sweeper Swag link in the upper right on 1800SWEEPER.com, pass through the password protected area, and shop to your heart's content. (Need the password? Just contact Carolyn Bell.)
Below are a few notes on order quantities on the shopping site:
For all embroidered items (polos, jackets, caps, etc.) please purchase a combined total of at least five pieces.
For screen printed T-Shirts, the minimum pieces needed are 25 per order.
Sizes and colors CAN be mixed / matched in all orders.
If you have seen a promotional item that is not now offered on the site, give us a call and let us know. We'll see if we can offer it to all the partners. One final note – if you still need truck decals for your equipment (the 1-800-SWEEPER phone number) just call the office and speak with Carolyn.  These are available FOR A LIMITED TIME ONLY AND AVAILABLE DIRECTLY THROUGH THE MAIN OFFICE.