Vendor Partner - Fleetio

Automate your sweeper vehicle fleet operations and help control the chaos of fleet management with Fleetio.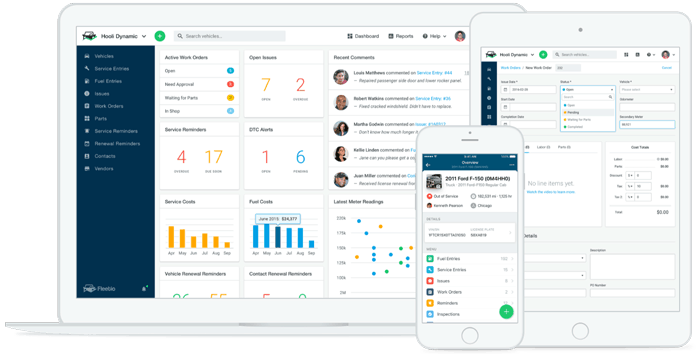 Store everything about your vehicles. Purchase or lease details, operating expenses, status history, driver assignments, important dates and more — all in one place. Even link vehicles together to better manage associated assets.
Real-time cost per mile is automatically calculated for each vehicle. This powerful metric shows your fleet expenses by utilization and helps compare vehicles.
Upload lease contracts, warranty details and other important documents. Add photos for better vehicle identification or recording damage.
Store custom attributes about your vehicles and sort them any way you choose. Custom fields can be open text fields, date fields or drop-downs with predefined values for data consistency.
Import vehicle data at any time. Bulk update your vehicle data by exporting it, editing in your favorite spreadsheet program and re-importing it.
Plan, schedule and carry out maintenance with Work Orders. See parts and labor subtotals for line items, and log which parts were used and which mechanic(s) did the work.
Manage details about your fleet's parts like manufacturer information, part location and photos all in one place. Track part allocation for work done on your vehicles and record part usage in Work Orders. Our mobile app, Fleetio Parts, makes it easy to manage inventory from anywhere.
Set up reminder notifications for any preventive maintainance or other service task (e.g. oil change, PM-A, etc). Subscribe multiple users to any reminder, including renewal reminders (tag renewal, insurance, etc).
---
For more information contact:
Gregg Blair



419-276-6665