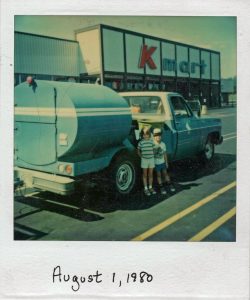 Somewhere, in a family scrapbook or photo album, there is a photo of five-year-old Gary and six-year old Caroline Megliola standing in front of a sweeper. In the early 1970s, their dad, a full-time firefighter, started a parking lot maintenance job sweeping and picking by hand, eventually purchasing a small Tenant sweeper. By 1979 he purchased a new MASCO sweeper to develop a side business driving cross-country to CA to pick up a new Masco sweeper.
Air Sweep Inc. is currently helmed by Gary Megliola and partner, Nikki Serafino, along with Gary's sister Caroline, and is still very much a family owned and operated company based in Agawam, Massachusetts. All told, the company has over forty-five years of commercial service under its belt.
The original vision for the sweeping business involved Gary and Caroline's dad, Leonard, driving the Masco, and Gary's mom, Thedora, who was particularly mechanically inclined, maintaining the equipment. Gary inherited a little skill from both parents, eventually driving a sweeper as he came of age and learning to maintain the equipment himself.
Like many of the 1-800-SWEEPER Partners, Air Sweep offers a wide spectrum of power sweeping and related maintenance services from parking area maintenance to street sweeping for municipalities to sweeping and trucking ground asphalt created by street resurfacing projects.
The milling sweeping developed as an offshoot of Gary's work driving a dump truck ahead of asphalt contractors on pavement grinding projects. Gary recognized that those contractors were consistently complaining about the quality of the follow-behind sweeping service they received from inefficient sweeping contractors.
Confident that he could provide far better service to his existing milling contractor customers, Gary acquired his first mechanical broom truck and air machine in 1996 to go after more industrial sweeping and milling business. His can-do attitude and hard work paid off and today, sweeping at construction sites and on asphalt milling projects throughout Massachusetts and Connecticut is their primary driver of projects year-round.
Gary considers equipment to be the foundation of the ability to provide customers with ongoing service. Because of this, his fleet of over 10 sweepers is maintained on a daily basis. Knowing that their sweepers are ready to meet all customers' requirements, no matter how large or small their needs, is the key.
Gary would describe Air Sweep as a hands-on business that incorporates old-fashioned hard work ethic combined with new technology that gets the job done right. Like many in the power sweeping industry, as his client base has grown, emphasis has shifted from hardware to the human resources side of running a power sweeping service company, working on hiring and training professionals who are eager to do the best job possible.
In 2018, after Gary's mom passed away, he and Nikki started moving the business records to a new location after over 40 years of being housed and run from his parents' home where everything began. Today, as they look to expand their business footprint and service area, Gary is taking on a new role, and beginning to see the value of hiring in people who can help maintain the 11 sweepers, along with the company's fleet of dump trucks and dumpster drop-trucks. He is looking forward to the shared knowledge provided by other owner/operators in the 1-800-SWEEPER co-op to develop new skills and put new practices in place to enhance his growing business.