When Nicole Cicillini-Balsamo's parents, Angelo and Marie, started New York Maintenance in 2009, they had a vision of creating a company where employees would feel like they're part of a family. Today, with Nicole's husband, Joe, and sister, Danielle, involved in the company, NYM Group truly is a family business.
But as Nicole tells us, it's still important to have over 60 employees involved and feeling like they are part of the family. To help accomplish that, their company has taken several unusual steps including developing an employee and human resources software tool that keeps everyone focused on day-to-day tasks and company updates. They have also developed driver incentives to help their sweeper operators stay safe as well as productive.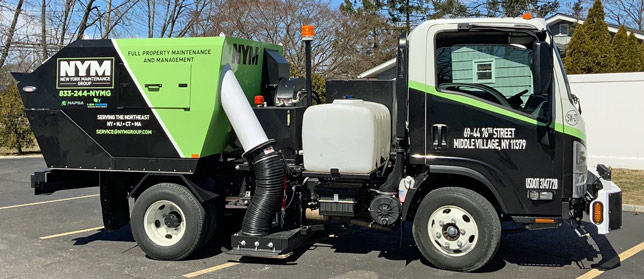 The majority of their work is focused on retail shopping centers, working directly with property owners and managers. The NYM range of services includes "traditional" paving maintenance categories like pothole repair, striping and pressure cleaning.
Unlike many maintenance and sweeping contractor companies, NYM Group has developed a personalized program for their growing list of clients by incorporating an on-site person for each location they serve. That person carries out day porter duties and also acts as an important set of skilled maintenance eyes and ears for the facility.

Incorporating work orders directly into their website allows those on-site facilitators to also identify and take responsibility for initiating maintenance projects from fire safety systems to lighting to maintenance repairs and sweeping services at properties throughout the Northeast region, including, Nassau County and Suffolk County in New York.
The sweeping portion of NYM Group's business – added in more recent years – is currently handled using 3 Nighthawk Raptor sweepers. As demand for their concierge-style services continues to grow, that number may need to increase in the future!