Milestones are something to celebrate. And Progressive Sweeping Contractors, LLC. headquartered out of Toledo, Ohio just hit the 4-decade marker.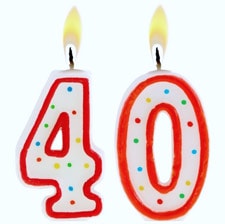 Started by 1-800-SWEEPER Board President, Mike Lucht in 1978 with a single sweeper truck, ProSweep is celebrating its 40-year anniversary in March 2018.
Over the years, Prosweep has grown from a 1-truck operation to a multi-city operation with a second location in Redford Michigan, outside Detroit. The Redford operation is helmed by one of Mike's sons, Jason. To help commemorate the milestone, their website www.ProSweep.com was completely overhauled.
Giving credit where credit is due, Mike appreciates the many hours and diligent work put in by his 50+ person workforce.  He says: "We take pride in being a great place to work while continually increasing our customer base which currently includes over 500 satisfied customers. People interested in being part of the ProSweep Team have to come in with excellent, ethical work habits including a commitment to showing up on time, prepared to deliver the best possible services to our outstanding loyal customers."
Progressive Sweeping Contractors operates a multi-discipline operation providing cleaning and maintenance of Paved Parking Lots, Municipal Streets, State Highways, Airports, Home Owner Associations, Industrial Facilities, Construction Sites, and Commercial Parking Garages to name a few.
ProSweep was an early adopter of Fleetio's computerized preventive maintenance program to help guarantee that when called into service, the sweeping equipment they need will be ready and in top operating condition. Experienced professional mechanics perform all maintenance and repairs on ProSweep equipment. Mike believes that the pride his company takes in maintaining the physical assets of the business reflects the company's concern in meeting their customers' needs.
Likewise, not just an early adopter, but the creator of the Eagle Eye Tracking and Billing System, ProSweep utilizes Eagle Eye's web-based computerized routing and billing system specifically for the sweeping business. This integrated operating platform assures accuracy of route scheduling and billing for custom tailored services. Using Eagle Eye, invoices clearly indicate the service date(s) and location which corresponds to the service ticket provided by the sweeper operator following service.
In addition to serving as the current president of the 1-800-SWEEPER organization, Mike served as the President of NAPSA – the North American Power Sweeping Association. On the heels of their past decades of innovation and service to customers and the power sweeping industry, we wish ProSweep along with Mike Lucht and crew a successful NEXT 40 years.