When the 1-800-SWEEPER co-op was created in 2011, our tagline "Nationwide Service Alliance" told a story about our goals- offering a coast to coast contingent of individually owned power sweeping service companies. In addition to sharing valuable knowledge, a joint marketing platform and buying group opportunities among the participating companies, "Nationwide Service Alliance" showcased our ability to service multiple locations using a unified billing and providing consistent service.
As the organization evolved, adding new sweeping Partner companies along the way, we added "Experience the Difference!" as our slogan. This update recognized that as "insiders", we knew the benefits but potential customers should look at things that set us apart from others in the industry. Customers looking for sweeping services – or potential Partners thinking about joining the organization should take a closer look at 1-800-SWEEPER to appreciate attributes that set our organization and our members apart.

Recently, we realized that some in the industry had a perception – really a mis-perception – that our recognizable toll-free number was "THE ONLY" benefit of joining 1-800-SWEEPER.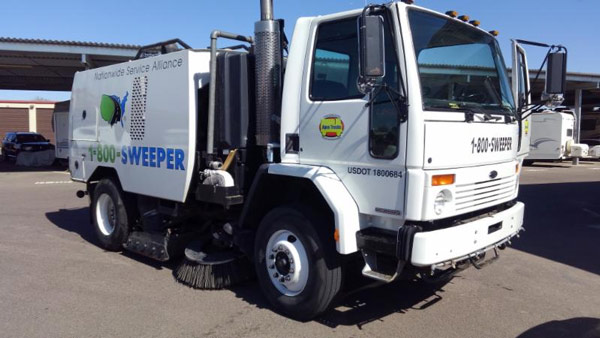 While the ability to brand your vehicles with our recognizable and obviously memorable phone number is a huge asset, the reality is that our marketing, buying group discount rates, ongoing purchase rebates and insider knowledge base makes the value of our organization clearly "More Than A Number!".
In 2018, with over 50 companies working together – each operating his or her own individually branded company, yet under the consistent banner of 1-800-SWEEPER, we have an industry-wide strength and reputation as well as the originally conceived Nationwide Service Alliance.

Today, our Partners have access to 25+ Vendors that are part of our buying group. Everything from MRO supplies and tires to sweeping vehicles are available to our Partner companies at a discount.
In November 2018, 1-800-SWEEPER Partners from across the country will meet for benchmarking of business activities, while learning from and teaching each other best practices at Sweeper Summit 2018. This annual conference and outdoor equipment exhibit has been a highlight for Partners in the organization for many years!
Plans for Sweeper Summit 2018 are in the works, and we are pleased to announce that it will be hosted again at the beautiful Lake Las Vegas Hilton in Henderson, NV, November 7 – 9, 2018.  To assure Sweeper Summit 2018 will be the #1 must see event for our industry and continue exceeding Partners expectations, a Sweeper Summit Advisory Board was recently created.
The Advisory Board was formed to provide guidance in expanding the format and content to build on an already successful executive workshop platform and broaden the reach and appeal to attract anybody in the power sweeping industry, manufactures and contractors alike, while maintaining the integrity, intimacy and exclusivity of the Sweeper Summit for our 1-800-SWEEPER Partners.