Since our founding in the fall of 2011, we have promoted the 1-800-SWEEPER brand with covers on trade magazines, signage at NPE, press releases, and our annual Sweeper Summit.  Last month, we took our branding efforts to new levels when one of our partners swept both the Darlington and Rockingham Speedways with equipment displaying 1-800-SWEEPER decals.  The additional brand exposure associated with our involvement in NASCAR is news by itself, but we also wanted to learn more about sweeping race tracks for cars traveling at speeds approaching 200mph.  We learned that prepping a race track requires a plan which includes skilled operators and the proper equipment.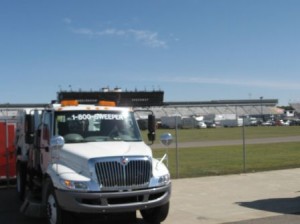 Due to the speed levels achieved during a typical NASCAR race, the track needs to be clear of all debris.  Even the slightest amount of dirt or debris on the track can affect car performance, and in a worst case scenario, losing control of a race car can having catastrophic or even deadly consequences.  If you have ever watched NASCAR on TV, or attended a race in person, the track looks clean…..but looks can be deceiving.   Sweeping a NASCAR track is very different from a flat parking lot.  Those banked corners are great for helping cars maintain speed during turns, but they can be a challenge to sweep.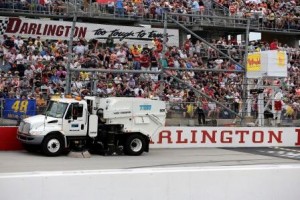 The pictures in this post were from a race held at the Rockingham Speedway back in April.  The 1 mile track was prepped with a Tymco 600 and a Schwarze Gale Force.  The pre-race sweep took about 2 hours, with 3 yards of material removed from the track.  The sweepers were also on stand-by during the race to clean up debris in the event of a crash.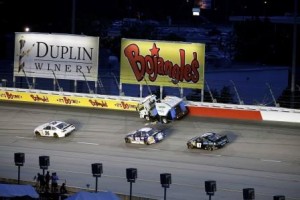 For our readers who are gear heads, you might be interested to know Elgin introduced a new Crosswind® Specialty Track Sweeper at this year's Daytona 500.  The system has a very powerful vacuum suction system designed to dry rain-soaked tracks and clean up oil spills in the event of a crash.
Do you have a specialty sweeping story that you would like to share with our partners?  Whether you cleaned up before and during a NASCAR race, a marathon or 5k, or a special event like Mardis Gras, we would love to hear from you and see your pictures.  If you have a special sweep you would like profiled in our newsletter, please contact Carolyn Bell.