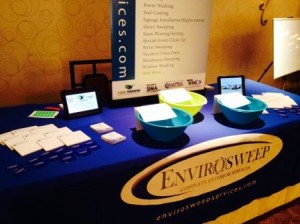 If you have never exhibited at a local trades how or networking event, your company is missing out on valuable opportunities.  Although most business owners appreciate the value of making new contacts, not all are willing to dedicate the time and resources to exhibiting.    Some sit on the sidelines due to cost or the notion that they already know the area's key players while others cite the lack of a show-ready presentation.  If marketing and promotion budgets are limited, do some homework to seek out affordable or no-cost networking opportunities.  And if you have been a 1-800-SWEEPER partner for any length of time, you now recognize there are buying influences in your own back yard that are unfamiliar with your company's capabilities.  All of these common objections are easily addressed, but what about trade show presentations? 
Cory Diedrich of Envirosweep recently helped his company exhibit at their first show:  BOMA's Indianapolis Annual Trade Show and Casino Party.  We recently sat down with Cory to discuss what he learned as an exhibitor because we thought it might help the rest of the group.  According to Diedrich, "The venue was a relaxed way to connect and solidify relationships with the hard-to-reach people we want to meet.  We used I-Pad slide presentations to show what we can do and where we sweep.  We also received a good deal of positive feedback on our co-branded YouTube video discussing the environmental benefits of power sweeping.  Property managers want to sweep, but like anything else, there is a cost associated with this service.  Our video opened some eyes, leaving folks more educated and more likely to clean up.  Using this approach changed the dynamic of our conversations from typical sales pitches to teachable moments."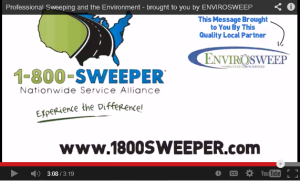 If you have always wanted to exhibit at a local trade show or networking event but shied away for lack of a polished presentation, consider adding your new, co-branded YouTube video into the mix or build a PowerPoint presentation with pictures explaining how regular sweeping addresses common customer problems.  Your company will project a professional image, shifting the emphasis from selling to educating, and best of all, you will stand out in the crowd.