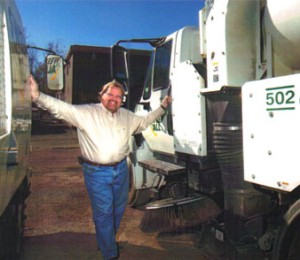 In 1991, Doyle Caffee was a credit manager for Circle Business Credit, a commercial-lending division of Xerox specializing in the refuse industry.  The pending sale of CBC prompted Doyle to explore career options.  He could start his own refuse company, but the sizable capital investments required prompted him to consider an alternative path–the sweeping industry.  Doyle purchased a used sweeper for $13,000 and plunged head first into 90+ hour workdays, building up his company, Sweep All, Inc.  The original game plan called for selling the business in 5 years, but over 20 years later, Doyle is still going strong.
Today, Sweep All's fleet of 34 sweepers, 20 support vehicles, and 40 employees clean parking lots and streets in Kentucky and Southern Indiana.  Although it varies year-by-year, Doyle's team does an approximate 50-50 mix of parking lot and street sweeping.  One of Sweep All's high-profile jobs is Papa John's Cardinal Stadium, in Louisville, Kentucky.  The stadium has a capacity of 55,000, but eight to ten hours after each home game, the stadium grounds are pristine.  You'll also see Doyle's crew sweeping local stretches of highway, including I64, I-264, I-65, I-265, and I-71 on a monthly basis.
Doyle's business philosophy is concise and to the point.  "Our focus here is on growth while sustaining profitability and quality."  Caffee understands achieving these goals requires making investments in his equipment and more importantly, in his employees.  "Over the last 6-7 years, we have invested in leadership development and it is paying off.  Our employees are largely responsible for the success of the company.  Everyone has a role and plays a part, using our talents where we can best serve the interests of the company."
Although investing in employees is an important part of Doyle's growth strategy, he also understands the importance of marketing.  After attending last year's Sweeper Summit, Doyle recognized 1-800-SWEEPER would help him achieve his goals.  "We were looking for a greater presence, both on the internet and on a national basis.  Investing in 1-800-SWEEPER gives us another way to present our company."
Sweep All will provide parking lot sweeping and street sweeping for 1-800-SWEEPER customers in the Louisville, Kentucky market (Area Code 502).  Please extend a hearty 1-800-SWEEPER welcome to Doyle and the entire crew at Sweep All.  Welcome aboard!