Memorial Day is a time to reflect on the service and sacrifice our nation's veterans have made in order to protect our freedom.  We are just a few days removed from its observance, and many of us have fresh memories of going to a parade or ceremony honoring our veterans or saying thanks to uniformed active duty personnel while making our way through the airport.  Ask any vet if these gesture are meaningful and they will say they do, but what about the other 364 days each year?  At 1-800-SWEEPER, we have begun an initiative to honor and thank our vets by profiling their individual stories throughout the year.  Our purpose here is twofold:  to thank our veterans for their service and remind all of our partners that many of the skills learned while serving in the military translate well to civilian life.  If you are looking to hire a new employee or replace a departing member of your team, consider hiring a vet.
This month's column features Marty Doll of Progressive Sweeping Contractors, Inc. in Toledo, Ohio.  During his career with the Marine Corps, Marty rose to the level of Captain, serving with the 2nd, 4th & 1st Marine Divisions from 1980-1994.  He also saw active duty during and Operation Desert Storm. 
In addition to the attention to detail and get-it-done mentalities that are the hallmark of good Marines, the variety of tasks performed while in the service mirror the qualities needed to be a good sweeper driver.  Whether he is faced with making an in-the-field repair on his sweeper, scouting a property on his route that might have something that doesn't seem just right, or working a lonely, overnight shift sweeping on the Ohio Turnpike for a paving crew, Marty still comes to work every day demonstrating the discipline, performance and can do attitude of a Marine.  
According to ProSweep President Mike Lucht,  the skills Marty learned in the Marines pay huge dividends on the job:  "When we have a challenging task that requires someone to work it through, Marty is one of our go to guys. He is a loyal employee, active in his community and a good solid person."  The Marine Corps motto Semper Fidelis (Always Faithful) comes to mind.  When asked what he likes least about his job at ProSweep, his answer was simple:  winter lay-offs.  Marty loves to stay busy and the spotty sweeping during  the winter months mean he has less of an opportunity to help others. 
When I asked what he likes to do when he isn't at work, his answer was equally telling:  fishing, cooking, hanging with his grandchildren, and playing his trumpet.  What Marty didn't share about his trumpet was explained a bit better in a recent article in the Toledo Blade.  Marty was mentioned in a Memorial Day story in the local newspaper, which included this picture: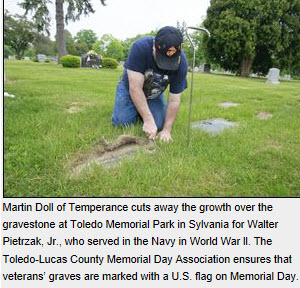 Marty is part of a group of vets that recently spent time decorating gravestones at Toledo Memorial Park in Sylvania, Ohio.  For the Memorial Day Observance, the volunteers called out the names of the deceased military personnel as a way of giving proper tribute and thanks.  After a call of "Attention," an out of sight bugler, Martin Doll, sounded Taps.
All of us at 1-800-SWEEPER would like to say thank you to Marty and to all of his fellow veterans who have served our country.  If you would like to thank an outstanding employee who has served the nation, please contact Carolyn Bell so that we can honor their service and share their story.