---
1-800-SWEEPER Partners can contact Ben Steyer at 419-708-7806 with any questions about these tech tips or their company's specific digital marketing programs.
---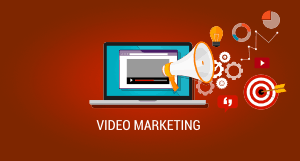 As part of an effective, holistic internet marketing presence, more companies than ever are creating and looking to share quality video content.
Some of that creative effort is meant to showcase capabilities to prospects via LinkedIn, Facebook, or YouTube. In the past 3 years or so, also showing those videos directly on that company's own website has become much more mainstream.
Many of the videos you come across when browsing the web are hosted on YouTube's platform and have been inserted directly onto a company's own website by web programmers utilizing a free tool from YouTube that allows placing an "embedded video" onto website pages.
As you may suspect, however, utilizing a free service like this comes with some potential downsides.  As they say, "You get what you pay for!" and "There's no such thing as a free lunch!"
Choosing to use YouTube's free embedded player on your own website brings along some forced features that we think may be more harmful than helpful to your company's marketing. Much of this relates to YouTube's desire to promote THEIR available content and overall services to viewers, rather than providing the content in a more "behind-the-scenes" fashion to ensure the focus is on your business.
What's the primary motivation behind this heavy promotion of video content found on YouTube? YouTube makes money primarily through advertising. The company's incentives align with getting users to spend more time watching as much video content available through YouTube as possible so they can then serve more ads.
Because of the increasing level of distracting self-promotion that YouTube has been implementing for its hosted videos, NetTrack has been researching alternative methods to showcase video content on clients' websites.
As part of our search for an alternative video hosting service, there were 3 primary features that we identified as desired improvements over the capabilities offered by YouTube embeds:
1) The video player can be customized to show only YOUR branding, not the branding of the video hosting service. 
To increase brand recognition and help promote their own service, the YouTube embedded player includes the YouTube logo in the frame that surrounds the video during playback. There is no way to disable this or replace it with your own logo.
In addition, the customization of the appearance of other elements such as the colors of titles or the inclusion of other elements is limited.
An improved video hosting solution should allow for the embedded video to focus on YOUR branding, not their branding. Here's a great example (including player color choice – in this case, orange) of a video embedded through Vimeo, as found on AardvarkMemphis.com.
---
2) Automatically including "related videos" is optional, customizable, and can be completely disabled.
YouTube-embedded videos on your website that are paused or have reached their end will automatically show a grid of suggested "additional" videos to watch. These are other videos that will typically be off-brand and off-mission. (See screenshot below.)
Control of this automatic "feature" through YouTube is limited at best, which means that you can't easily control which videos will come up when paused or at the end. So, a prospective customer engaged in watching a video for one of your products or services may wind up getting distracted by other videos that are unrelated or even worse, might point them towards a competitor.
---
3) There are no forced links in the playback frame to drive users away from your website and over to the video hosting service's website. 
With a YouTube video embed, clicking the YouTube logo or on any suggested / related videos sends the user directly to YouTube in a new browser window, taking them off your website.
Embedding a video should not require including links that direct visitors away from your website and over to the video hosting service. This is mainly done for the promotional benefit of the video host, and once the viewer has gotten to their website, they are much more likely to go down a video-watching rabbit-hole rather than going back to your site.
---
While there is certainly nothing wrong with continuing to have videos uploaded and available on YouTube's platform as part of an overall digital marketing strategy, we feel that using a paid service such as BrightCove, Wistia, or Vimeo to host and provide playback for the videos presented directly on your website helps you stand out as a professional organization and limits the potential to lose website visitors.
After our research, we have started using Vimeo to embed videos on client websites rather than YouTube. We found that it met our criteria and have been happy with the results so far.
Tip: Want to see a live example illustrating the difference between a video shown via YouTube embedding and Vimeo's embedded player? Click here to see a side-by side comparison on the NetTrack Marketing blog >>
General Tips About Utilizing Videos for Marketing Purposes
Beyond your choice of video hosting provider, here are some other general tips regarding the utilization of videos for marketing purposes:
Videos that show your sweeping or maintenance company in a good light are a great way to connect with the people in your industry who influence others — on Twitter, LinkedIn, Facebook, or wherever your prospects gather information.
Start promoting your videos in channels that you can control, such as your email newsletter, your blog or home page, and in your social media campaigns.
Be realistic about the content of your video and match it with your promotional strategy – directing viewers to YouTube is a good idea for videos that have the potential for broad appeal or "viral" content – but don't expect videos that provide overviews of your company or services to meet this criteria. In those cases, it is better to direct viewers to an embedded version of the video found on your own website (and as we learned above, not embedded from YouTube).
Promoting with your videos can be as simple as seeking out industry-focused places where questions are asked. Search for forums where people are asking questions that your videos answer and gently offer your video as a solution.
It can also be worthwhile to look for people who write about the topic and offer your video as a resource (requesting that they credit your company as the source).
In Summary
If you are either:
Using YouTube's free "video embed" feature to embed videos onto your company's website…
or
Expecting the YouTube video platform to send lots of traffic to your site purely by being available on that platform…
…you may be expecting more marketing results than you are receiving.  Consider whether an independent (paid) video hosting solution may be worth it to provide a better and more professional video presentation for videos shown on your company website.
---
This important tech-related blog post is brought to you by NetTrack Marketing, our digital marketing vendor partner.

---