The premier industry conference for sweeping contractors and manufacturers in North America will take place in Atlanta, GA in two weeks. Starting on November 7th, 2019, ​ the Sweeper Summit & Equipment Expo will include an incredible line-up of heavy equipment manufacturers and service companies that cater specifically to the power sweeping industry.
The Sweeper Summit started in 2012 as 1-800-SWEEPER's annual meeting and has grown to become not only an annual meeting, but an equipment show for the industry as well. This an annual must-attend event not only incorporates hands-on equipment displays but also has an educational component specific to the sweeping industry. Attendees learn from a variety of classes and panel discussions and enjoy networking with other professions who will share knowledge to help your business boom!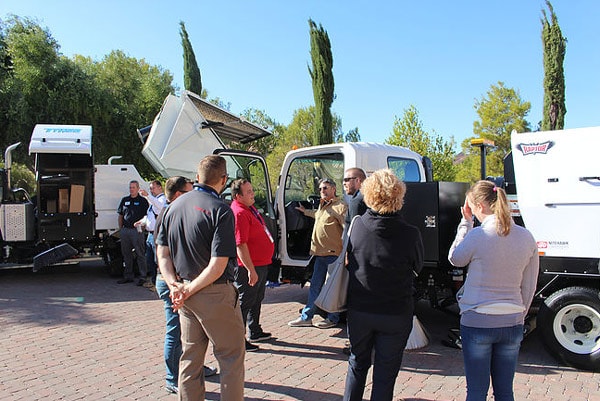 The complete agenda includes a welcome cocktail reception, equipment demonstrations, educational classes & industry-led panel discussions. Breakfast, lunch and a dinner reception for attendees is also included during the 2.5 day event.
A quote by Mike Higgins – Vice President/General Manager of 2019 Title Sponsor – Elgin Sweeper Company – illuminates the importance of this event: "I think the Sweeper Summit is appropriately named, as opposed to a trade show. Trade shows generally have too many distractions that keep customers away from the show floor. The Summit is focused and small enough for manufacturers to attend the sessions and get good information out of them."
Educational Opportunities will include sweeper-focused topics including:
Is Safety your #1 Priority?
Everyone in the sweeping industry thinks they have high safety standards; but how do your employees follow these standards? Speakers will provide actionable, behavior-changing "nuggets" that you can take back to your company and implement immediately.
Making the Most of Maintenance
​From tracking shop inventory to documenting repair requests, this panel of experts will lay out their approach to addressing common fleet maintenance issues while using modern tools and technology to streamline the fleet maintenance process and keep your shop running efficiently.
Marketing Your Sweeping Service Business in Today's World
During this fast-paced session, digital marketing experts who work with 1-800-SWEEPER will discuss development and execution methods for social media marketing, website development and search-centric marketing.
Follow this link for a list of all equipment vendors exhibiting.
This all-inclusive summit is an opportunity to meet with and learn skills from fellow industry insiders. Be a part of this must attend event! Register by Register by emailing Carolyn Bell at cbell@192.241.188.110.