What do you get when you combine a M8 Mobil broom sweeper, a Sports Illustrated swimsuit model, an unused tarmac at the Chino Airport in Southern California, and a 2013 Lexus GS Sedan?  Mark Carter of Bill's Sweeping Service has the answer to the puzzle.
If you have been in the sweeping world for any length of time, you've probably received some odd requests.  Mark's company was established in 1953 and granted, his business is located in Southern California.  With this said, nothing could prepare him for the service request he received last December.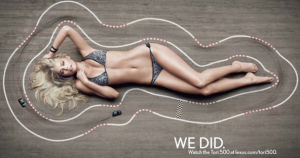 Bill's Sweeping Service received a call regarding some sweeping and surface prep for a race track.  It wasn't an ordinary oval race track though.  Turns out, the Lexus people decided to do a photo shoot with SI swimsuit model Tori Praver.  The images from the shoot were then photomapped and used to create a real 1-to-1200 inch scale race track, inspired by swimsuit model curves…Tori's curves to be exact.
As the story goes, the track surface had to be swept so the lines could be painted.  Once the track was completed, race car driver Scott Pruett and professional stunt driver Greg Tracy each took a lap competing for the best time.  The winner earned a victory lap with Tori.
According to Mark, "I am not sure where all the dust came from, as we had the area nice and clean."  Oh well, dust and dirt show up in odd places.