If you are like most in our group, you probably walked away from this year's Sweeper Summit with at least one game-changing idea that will have a significant impact on your business in 2015.  For some, a new piece of the puzzle fell into place during the benchmarking session.  Others learned how to leverage the power of LinkedIn or land major accounts.  Still others hit the jackpot while talking with their colleagues from other parts of the country.  Although I learned much from each of the formal presentations, for me, the most interesting idea came in the form of a card exchange.  I was visiting with Lee Miller of Pacific Sweeping after a long day of "Sweeper University" as I call it, and he asked me to make some changes to his content on www.1800Sweeper.com.  The request was simple enough—Lee is rebranding his company and in the process, he changed his business name from Cannon Pacific to Pacific Sweeping to more effectively promote his company.  At the end of our conversation, Lee handed me his business card and proudly pointed out that he dedicated the entire back of the card to highlighting his involvement with 1-800-SWEEPER.  The idea seemed brilliant at the time, and maybe I just don't collect enough business cards from other partners, but I have to imagine there aren't many of us following suit.  I asked Lee to explain why he used the entire back side of his business card to promote 1-800-SWEEPER, and his response was so good I decided to share his thoughts with the rest of the group.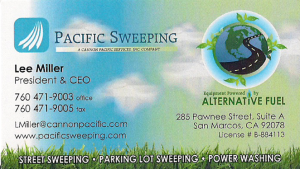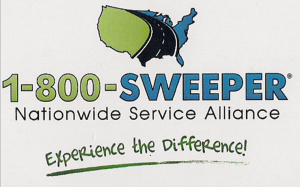 There is an old saying "all good things come in packages of three", and in this case, Lee offered a three-part explanation for his new branding strategy.  For starters, Lee felt that the front of his business card was already too busy.  Placing additional information about 1-800-SWEEPER on the front of his card would create brand confusion.  Lee also wants potential and current customers to recognize the 1-800-SWEEPER brand as different from his own, but to make the connection between Pacific Sweeping and 1-800-SWEEPER.  Finally, Lee pointed out that he meets just as many vendors as customers, and during each meeting, he hands out his business card.  If we can get vendors to recognize the 1-800-SWEEPER brand, it can create interest from vendors we may not be thinking about, and this may open up buying opportunities for all of our partners.  This last point is extremely important.  As Mark Carter pointed out during a subsequent conversation, 1-800-SWEEPER is one of the largest sweeping fleets in the country, and with this size, we have incredible buying power.
I am not suggesting that we HAVE to dedicate an entire side of our business cards to promoting the 1-800-SWEEPER brand. That said, I would guess there are a good number of us making no reference to 1-800-SWEEPER on either side of our cards.  Put another way, you can print a new box of business cards for less than 20 bucks, and we all belong to the only nationwide alliance of sweeping companies in the world.  Our brand is on the rise, and we should all be thinking about ways we can leverage this strength to grow our respective businesses.
Using a business card to co-brand our businesses is just one example of a game-changer that I learned at Sweeper Summit.  Each of us has built successful businesses through individual effort and hard work, and for years, many of us kept our best ideas as closely guarded secrets.  At the same time, we are beginning to see the power of a community that shares our new ideas.  Are you implementing something new as a result of your time spent attending Sweeper Summit 2014?  If so, and you'd like to share, we welcome your thoughts.