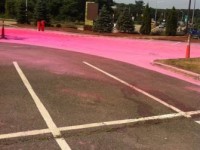 1-800-SWEEPER partners receive some unusual street sweeping service requests.  From  Mardis Gras and NASCAR races to hurricane cleanup and high profile photo shoots, 1-800-SWEEPER partners come to the rescue on a daily basis, cleaning challenging messes.  One of the more complex (and interesting) specialty cleanups our partners perform is street sweeping for color runs.  During a color run, racers are doused with dyed cornstarch as they make their way along the race route.  Color runs are a great twist on the traditional 5K road race for the athletes, but the cleanup work presents some unique challenges: dust control and minimizing stains on paved surfaces.   Spring is right around the corner and the racing season will heat up soon, so this post shares some lessons our partners have learned while street sweeping for color runs.
Last year Latasha Crenshaw did street sweeping for her first color run in Atlanta.  "We learned a lot from this process," says Crenshaw.  "We started with regenerative air sweepers, but the fine nature of the dust combined dust with gutter brooms kicked plumes of pink into the air.  The key to our successful cleanup was switching to an Elgin Whirlwind sweeper and adding water to the hopper to minimize dust clouds."  After the sweeping was completed, Crenshaw's team used a truck mounted pressure washer system to finish cleaning the race course.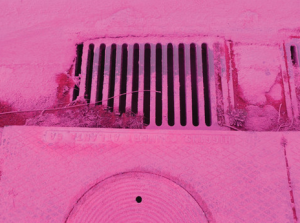 Regular readers of our blog may recall a story describing how Derek Grieco's Immaculate Power Sweeping team cleaned up after a color run.  According to Derek, the key is avoiding spraying water on the initial sweep and staying clear of mechanical broom sweepers.  Grieco's team ran a regenerative air sweepers just above idle for the first pass to remove the bulk of the colored cornstarch.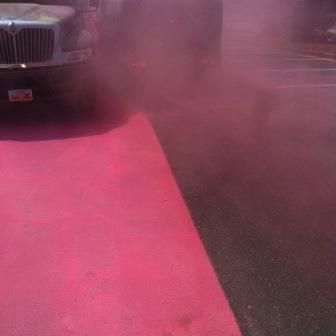 For the second phase of the cleanup, Derek's team brought in a rented water truck and used a hose to wash the stained areas.  The water suspended the staining starch, which was vacuumed up with a second pass by his sweepers.  One other important tip—Derek's crew also added some water to the sweeper hopper before heading to the jobsite to combat fugitive dust and to assist with the sweeper cleanup once they returned to the shop.  Adding water to the hopper is a common theme mentioned by everyone who has swept a color run since it minimizes dust and minimizes cleanup once equipment returns to the shop.  Here are some of Derek's color run pictures that do a good job showing how water is used in the later stages of the cleanup.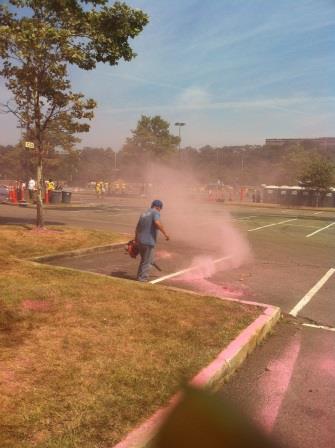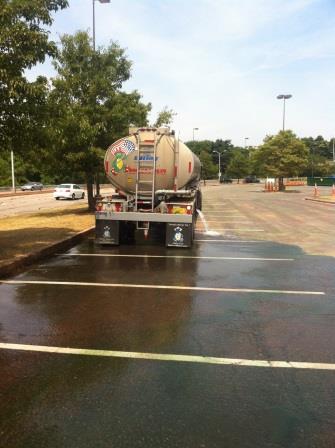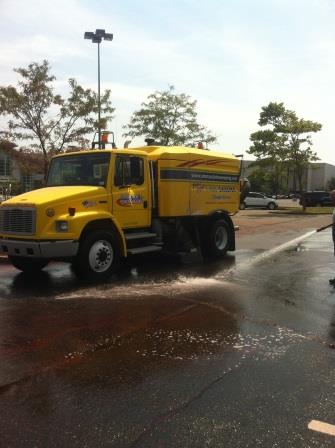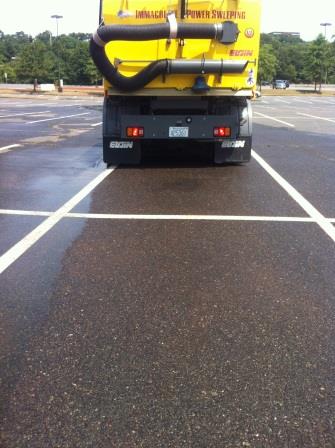 Before taking on a contract for color run street sweeping, you also need to consider the venue.  During our research for this story, we spoke with Sylvia Richards of Asphalt Enterprises to discuss her experiences with color runs.  Like many of our partners, Asphalt Enterprises got into the color run sweeping business thanks to a referral from 1-800-SWEEPER.  According to Sylvia, it is important to think about location.  "If you are sweeping in a crowded downtown area, or in a residential neighborhood, you need to be extra careful that the dust generated by the sweeping doesn't land on nearby cars and houses.  Fortunately for us, both of our color run cleanups were performed in an outdoor pavilion area so the cleanup went much faster and we didn't need to worry about houses and cars."
Sylvia also stressed the importance of maintaining good communication with the race directors to clarify the number of color stations on the race course.  A race with more color stations will take longer to clean up than a venue with fewer stations.  Both of the races that Sylvia swept involved 5-6 color stations and her crew spent half a day sweeping and another half day cleaning up the equipment.  Sylvia also recommends checking with the race coordinator in advance to see if there is a dumpster on site to dispose of the swept material.
Here are some of Sylvia's race day pictures: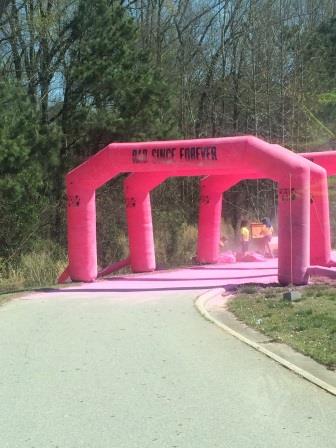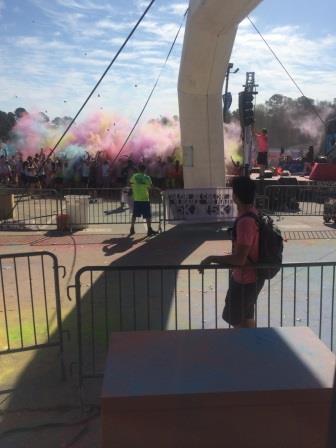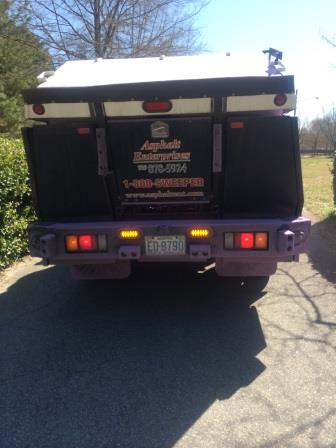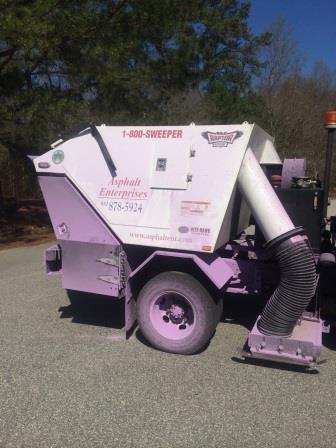 Color runs are great fun for racers and their cleanup can present challenges for race organizers, but as a group, we have years of collective experience sweeping color runs in all kinds of conditions.   If you are a race director looking for a reliable partner to make short work of your color run cleanup, give us a call at 1-800-SWEEPER and one of our experienced partners will contact you to discuss your sweeping needs.