Jacketta Sweeping Service
50 Years and Counting
Living with one of the most impressive panoramic backgrounds nature could create, along with the awe-inspiring, manmade Salt Lake temple rising out of the desert; you realize this is not a dream. You really live in Salt Lake City, Utah.
Doing their very best to keep Salt Lake City, Utah fresh and bright is Jacketta Sweeping Service. This year marks their 50th anniversary keeping the area around Salt Lake swept and tidy.
And that is no small feat since they have quite an impressive client list.
Through the years, Jacketta Sweeping has worked on most major construction projects in the area including building the NSA Data Center and Vivent Smart Home Area (home to the Utah Jazz). In addition, they served as the construction sweeping contractor on several major interstate and airport infrastructure projects.
Just to add perspective on the scope of some of these jobs, the NSA Data Center complex consists of 20 buildings with various departments including:
Electric substation
Fire pump house
Vehicle inspection facility
Visitor control center
Water treatment facilities
If you live in a city with a large college football following, you can imagine the size of the parking lots for University of Utah Football, which seats over 45,000. When asked if there are interesting "finds" following college football games, Debbie said, "After a game, we typically find lots of items there: clothes, coolers, opened bottles of liquor and beer, purses and money; one of our guys found a $20 bill while cleaning that parking lot."
Hey, just one of the many perks of working for Jacketta Sweeping!
Jacketta Sweeping History
Hoping to make some extra money, Neil Jacketta began working part-time for a man who had his own sweeping business. Neil hadn't been working too long when the owner died and his family had no interest in keeping the business going.
So Neil bought a ride-on sweeper and started his own business in 1968. The first three years, the business was part-time, but then it became a full time job. Jacketta Sweeping Service did business out of the Jacketta family home. "My Mom, Bonnie, did all the bookwork," said Debbie, current owner and daughter of Neil and Bonnie. It was easy to figure out which house the Jacketta's lived in – just look for the driveway with the sweepers parked in it!
In 1980 Jacketta Sweeping built its own building and was able to store the sweepers there, freeing up lots of driveway space. "In 1980, I had a young child and wanted to work, but only a few hours a week, so I took over my Mom's bookkeeping job. That way I could bring the baby with me."
It was during this time that Debbie began to learn the business. "We got a quarterly newsletter from Contract Sweepers Institute [predecessor to NAPSA], and I did a lot of reading and learned as much as I could about the industry. I went to a couple of regional meetings and met a few other people in the business. I also picked up a lot of knowledge just being around the operators every day."
It was a good thing Debbie was paying attention and getting involved in the business over the years because in 1999 her father died unexpectedly. "He was only 63 so it was a big shock." Working through that loss and keeping the business performing was tough. However, after a few years Debbie decided to buy it.
Debbie's husband also joined her in the business.  Craig's mechanical experience working at a welding supply house made him a good fit for managing the shop and equipment.
Currently two of Debbie's three children are part of the company. Her daughter, Kara Moore, went away to college and a career, then came back and has been working at Jacketta Sweeping since 2015. Debbie's son, Jarred Moore, joined the business in September 2018. Jarred started full time after working at the family business off and on during his college years and in between deployments with the military and work in government contracting.
Concerns
Many businesses are having a difficult time finding qualified workers and Jacketta Sweeping is no different. It's not easy finding people who will stay for any length of time. Small companies often cannot provide benefits and sweeping equipment is so expensive; also the nature of the business is being on call 24/7, so it can be difficult. With Debbie's children coming into the business, they may be able to streamline some issues using today's technology.
Accomplishments
Of course, Debbie is super proud of all three of her children and in her own right has garnered many awards and served on several boards. In 2018, the company was named Sweeper of the Year by Pavement Maintenance during the National Pavement Expo.
The following are a few of Debbie's other accomplishments:
1998-1999 President of The Contract Sweepers Institute (now NAPSA)
Speaker at The National Pavement Expo
Member of the Salt Lake Chapter of NAWBO (National Association of Women Business Owners)
2008-2009 President of NAWBO
2008 Awarded the highly regarded Utah Business Magazine's "30 Women to Watch" for her leadership of Jacketta Sweeping Service.
1-800-SWEEPER
Why did Jacketta Sweeping join 1-800-Sweeper? So many reasons! Debbie already knew several people in the group and thought she'd try it out for a year. She likes that the group is smaller than NAPSA so that you can really talk and get to know people. The buyer's group discount is a big draw and so is the fact that there are so many excellent businesses in the group. "It makes you better when you have good competition."
Equipment and People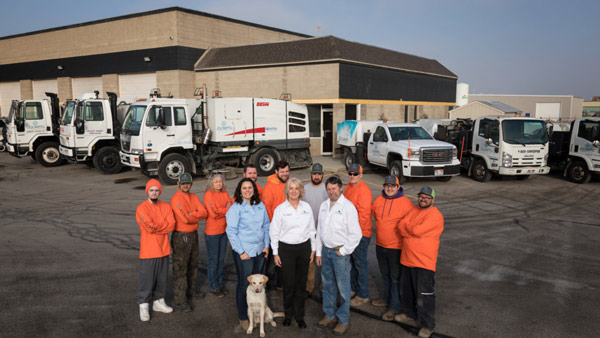 Jacketta Sweeping has a core group of drivers that Debbie can always count on to show up and do a great job. The company owns 5 broom trucks, 2 vacuum sweepers, 6 lot sweepers, and 1 ride-on sweeper. Some of the more updated software they're using is GPS to know where drivers are at all times, security cameras, and back-up cameras.
Fifty years in business provides a great deal of experience but you also have to be willing to change with the times and give customers what they want and need. Jacketta Sweeping is doing a great job at that! With a 3rd generation of family in the business, it could be that one day, Jacketta Sweeping will celebrate 75 years of sweeping success!