Ever since launching www.1800sweeper.com, we have busied ourselves building a brand.  Some forms of messaging resonate better with certain groups than others.  This is why you have seen a number of different brand building tactics over the past few years.  We aren't afraid to try new strategies and nobody will ever say we are timid about thinking outside the box.  The front and back cover ads in North American Sweeper, parking containers adorned with the 1-800-SWEEPER banner near expo centers, our highly visible presence on the web, sunset cruises along the Intracoastal Waterway, and the Sweeper Summit are all prime examples of our brand building efforts.  We'll never shy away from an opportunity to connect with current / prospective partners and buying influences sourcing sweeping services if it makes good business sense.
If you attended ConExpo earlier this month, you probably saw our mobile billboards circling the Las Vegas Convention Center or driving up and down The Strip.  For seven hours a day, the 1-800-SWEEPER message was busy reaching the masses, and we have already received membership inquiries as a result.  If you didn't attend ConExpo, take a quick peek at our mobile billboard in action….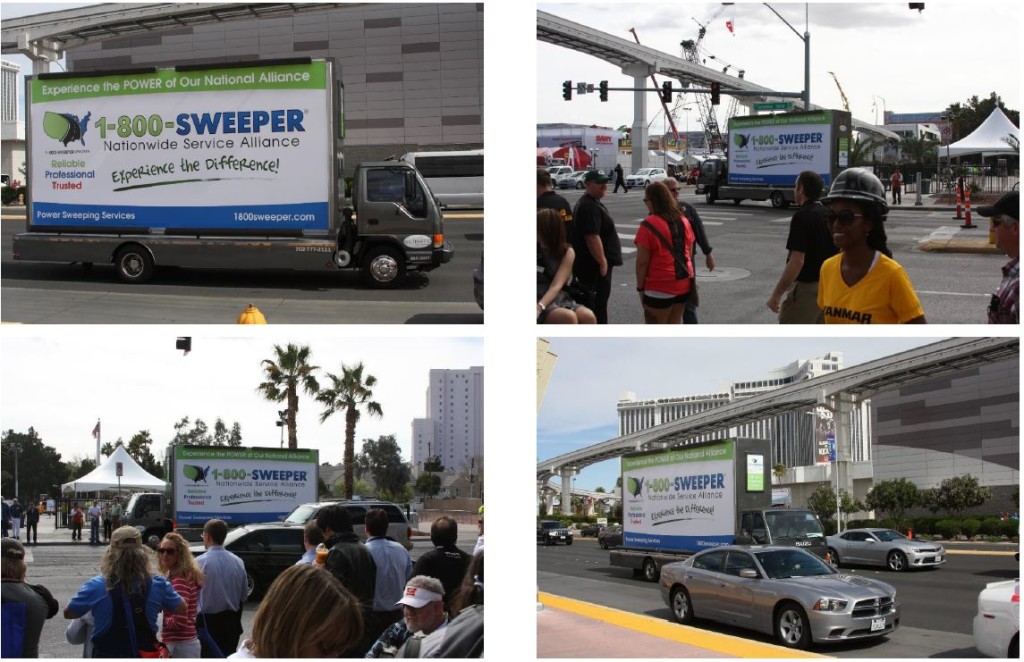 Do you have ideas on how we can further the 1-800-SWEEPER brand to attract new partners and gain the attention of folks in need of sweeping services?  If you do, please contact Carolyn Bell as we would love to hear from you!