It isn't the cover of Rolling Stone, but 1-800-SWEEPER made February's cover of Sweeper Market Magazine.  This publication reaches sweeping contractors, equipment manufacturers, and dealers throughout North America.  The magazine's publishers call Sweeper Market the "world's largest list of new and used sweeping equipment. "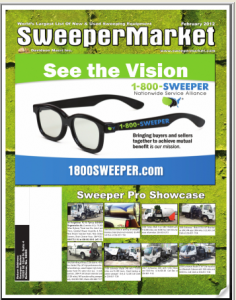 As the cover spot suggests, we have a vision:  bringing buyers and sellers together for mutual benefit.  We have quite the story of lead generation and cost savings associated with aggregated purchasing power to tell, so you'll likely see more publicity in the coming months.All members of 1-800-SWEEPER enjoy:
Print and Internet Marketing Initiatives
Co-op Buying and Group Discounts and Rebates on Consumables, Fuel, and Advertising
Centralized Billing / Accounting for Nationwide and Regional Sweeping Contracts and More
If you are considering membership but you haven't seen the vision yet, be sure to check out our Membership Page where you can learn more about our organization.