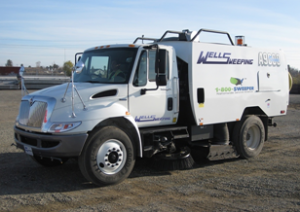 In our March 5th post, we mentioned the Wells Sweeping photo would be incorporated into the animated section on the 1-800-SWEEEPER home page.  We just finished up with the photo enhancements and we wanted to show how we take field pictures and turn them into a finished product.  Jay Wells and his crew submitted an action shot showing one of his trucks at a job site.  The 1-800-SWEEPER logo is prominently displayed on both sides of the sweeper.
We went into the editing studio and did some enhancements.  One could argue you need dirt on the pavement for a sweeper truck to look happy…..but we swept the dirt…and the rest of the background away.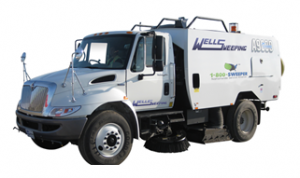 The last step was to incorporate the finished product into the animated header on the home page.  We chose to add this picture into the slide that discusses one of the benefits of local service.  Each 1-800-SWEEPER member understands relevant local environmental regulations as they relate to sweeper service, and they match their equipment accordingly to ensure both a great sweeping job and compliance too.