When Marc Chimento first heard that one of the facility managers for the Washington Redskins found Hy-Tech Property Services on the 1-800-SWEEPER website and that a team official was on the phone looking for parking lot sweeping, he thought it as a prank.  Many of our partners sweep parking lots for nationally known big box retailers and a few of us have done high profile sweeps for movie sets and photo shoots, but it isn't every day that one of us gets a phone call from a business or organization worth $1.6 billion.  While the news of this potentially lucrative lead coming from our website makes for an interesting read, the story of how Marc used the advantages of timing and location, combined with some good old fashioned follow through is an instructive lesson on how we all can grow our businesses. 
Marc's first thought was that the Redskins were simply price shopping.  His initial conversation was an eye opener, but the lead seemed to be a bit of a dead-end as Marc's contact said he would be in touch in a few weeks, but the phone never rang.  Several weeks later, one of Marc's customers from Bon Secours Hospital (the official hospital of Redskin's training camp), asked him if he could deliver a golf cart to the team for the hospital.  For those of you who don't know Marc, he is a can do guy…and as it turns out, this simple gesture got the ball rolling again with the Redskins.  Suddenly, Marc had access to higher level decision makers, and he pressed for details on the team's sweeping needs. Turns out, the Redskin's had cleaned house in the off-season so to speak, and they had awarded a new stadium cleaning contract to Jani-King, a nationally recognized leader in commercial cleaning and janitorial services.  Although Jani-King was an ideal choice for cleaning the stadium's interior, the company didn't have the ability to sweep the parking lot after games.  Jani-King and the Redskins found themselves up against a deadline with the first pre-season game looming on the horizon. 
After more high level conversations and dinner at a local steak house, Hy-Tech was finally awarded the contract to clean up after the first preseason game.  In addition to cleaning up the interior of the stadium, Jani-King would be responsible for picking up parking lot litter before Hy-Tech swept.  During his conversations with the team and Jani-King, Marc got a feel for just how big this new opportunity could be, so his last words to his cleanup crew before they left the shop the night of their first sweep were direct and to the point:  "Dan Snyder (the owner of the Redskins) is coming to work tomorrow morning and we can't leave behind a single trace of dirt or debris from a crowd of 80,000 spectators.  Do whatever it takes to make his lot look pristine."
Those final marching orders—do whatever it takes—are typical Marc Chimento and his message made a huge difference.  After the game ended, it became quickly apparent the Jani-King staff was overwhelmed by the magnitude of the picking job.  Rather than sitting in their trucks, Hy-Tech's Corporate Operations Manager, Jeff Davis instructed his crew lend a hand.  Teaming up with Jani-King, they made short work of the portering so that they could get to work sweeping the parking lot.  The attitude and performance of the Hy-Tech crew made such a lasting impression on Jani-King officials that chances are good Hy-Tech will be doing more stadium lot sweeping in the Richmond area in the not so distant future.
During my conversation with Marc, it was immediately clear that his story needed telling because there are so many lessons to be learned.  One of the more obvious takeaways is the power of a single call.  Although we aren't at liberty to disclose the amount of Marc's service agreement with the Redskins, we can say that the costs associated with his membership in 1-800-SWEEPER are paid in full for many years to come.  Working with the Redskins is quite the honor and there will be substantial new sales revenue generated from this partnership.  Equally important though are the new doors that have opened for Marc and the team at Hy-Tech.  Folks associated with professional sports teams know people—big players—and there will be more chances for Marc to quote on lucrative jobs as a result of this phone call that came from the 1-800-SWEEPER website.  Finally, Marc's journey emphasizes the need for aggressive follow-up.  His landing page on www.1800sweeper.com gave him the advantages of timing and location; his message was in the hands of a buying influence at the exact moment an immediate need for sweeping services presented itself.  With that said, attention to detail, networking, and aggressive follow-up on Marc's part made the difference with this deal.  Picking up the phone and having an initial conversation wasn't enough for a close.  Marc's landing page opened some doors, but it took time honored practices such as persistence and follow-up to get a contract.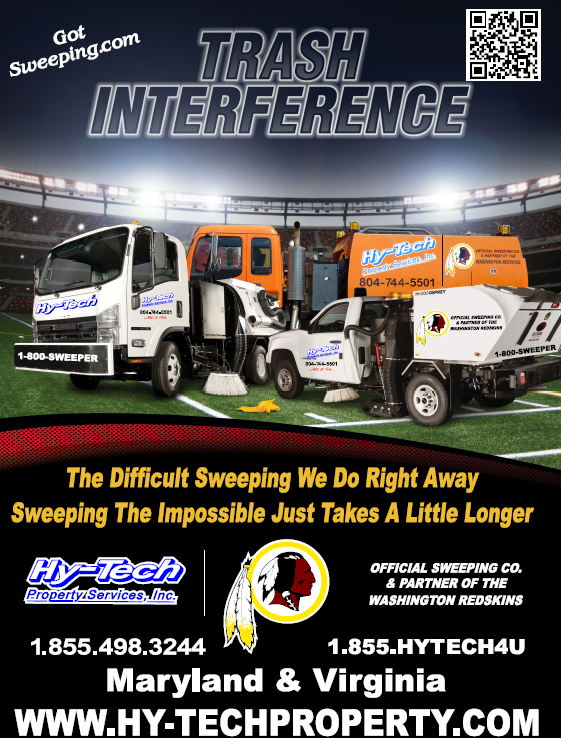 On behalf of the entire team here at 1-800-SWEEPER, we would like to send our congratulations to Marc and his team at Hy-Tech for a job well done.  Do you have a success story that you would like to share with our readers?  If so, please contact Carolyn Bell and we will make arrangements to publish news of your recent successes in our monthly newsletter.