Pete Phillips of Clean Sweep, in Chattanooga, TN is the latest of our partners to be profiled in this month's edition of North American Sweeper Magazine.  Like many sweeper companies, Clean Sweep is a second generation, family owned and operated business.  Pete's mom was a property manager who found reliable sweeping service companies were hard to come by, so his father decided to take the plunge and get into the business in the 1980's.  Clean Sweep did the initial construction clean up sweeping for local area retailers such as Target and Best Buy, and his company never parted ways with these and other big stores.  When the company was first starting out, the new business leads were primarily from word of mouth and the yellow pages.  Since this time, Phillips has come to appreciate the power of the internet too, and his word of mouth referrals are complemented by leads generated by search engine optimization, Google Pay-Per-Click advertising, and participation in 1-800-SWEEPER.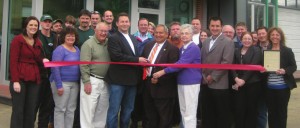 In addition to the marketing benefits, Phillips takes advantage of his 1-800-SWEEPER membership to secure discounts on supplies too.  "I used to get my brooms through Keystone, but now I used United Rotary because of the member discount….I get a lot of my supplies through 1-800-SWEEPER now."
Phillips even shares some thoughts on how to maintain an adequate inventory of spare parts…but for that, you'll need to take a peek at the rest of the story in this month's edition of North American Sweeper, which can be found by clicking this link.
Be sure to welcome Pete and all of the team at Clean Sweep to the 1-800-SWEEPER family!