Movie buffs may remember the "If you build it, they will come" line from Field of Dreams.  It is a great line from a fantastic movie….a quote that can apply to a lot of things in life.  It may be a stretch of the imagination to use lines from baseball movies when writing about the sweeping industry, but today is the first day of spring, baseball is in the air, and the snow that has blanketed much of the country this winter will soon be a fading memory.  The spring cleanup season will soon be upon us.
When we began work on the 1-800-SWEEPER website in the summer of 2011, a core group of companies rallied around a shared vision of a cooperative business alliance to generate sales leads and create the collective buying power of a $50 million dollar a year business.  Although nobody uttered the phrase, we believed "if you build it, they will come."  We did build it…..and the business did come.
Perhaps one of the best examples of this analogy is Jim Larko's decision to invest in a reconditioned Stewart-Amos Starfire S-4 sweeper.  Katsam Enterprises has been a 1-800-SWEEPER partner since we launched in the fall of 2011.  Katsam has received a good number of service requests calls from the website, but beginning in the spring of 2012, Jim Larko noticed  a lot of calls for street sweeping and construction sweeping.  Problem was, Larko no longer had the equipment to service these requests.  "When the construction business dried up in 2010, I had a business decision to make.  I could keep making payments on sweepers that left the garage once a month, or I could sell the equipment.  I'm not all that good at math, but it wasn't a hard decision to make."
"We started getting a steady stream of service requests for construction sweeping and street sweeping after the 1-800-SWEEPER site went live.  I was giving away business opportunuties to competitors each month.  Then I looked at the numbers.  It reached a point where investing in a new sweeper to handle the street sweeping and construction sweeping calls made good business sense."  Larko purchased his used Stewart-Amos sweeper from fellow 1-800-SWEEPER member, Mitch Barkman, who has a business (Broom and Vac Inc) that restores used sweepers.  "I paid a fraction of the cost of a new sweeper and I couldn't be happier with the equipment or the service I got from the folks at Buckeye."  Larko sent the sweeper out on its first job last week-end and it performed like a champ.  "We are really excited to be able to service street sweeping and construction sweeping leads generated from our advertising on the 1-800-SWEEPER website."    As the saying goes…..If you build it, they will come…..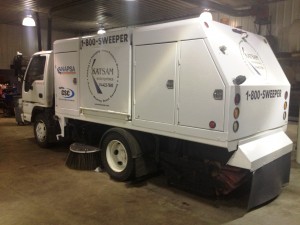 If you have a similar equipment story that you would like to share with our members, please contact Carolyn Bell and we will post your news in our blog.