Pete Phillips recently sent us some pictures from his exhibition booth at the Chattanooga Small Business Expo.  If you aren't already attending events like this in your area, you should start making connections with local property managers and business owners.  One new introduction can more than pay for the cost of your booth.  If you have ever contemplated attending a show to promote your business, you know that showing up to these events is the easy part.  Crafting a short and concise elevator pitch that prompts prospective customers to engage in a discussion is the real magic that turns a meeting with a prospect into a sales opportunity.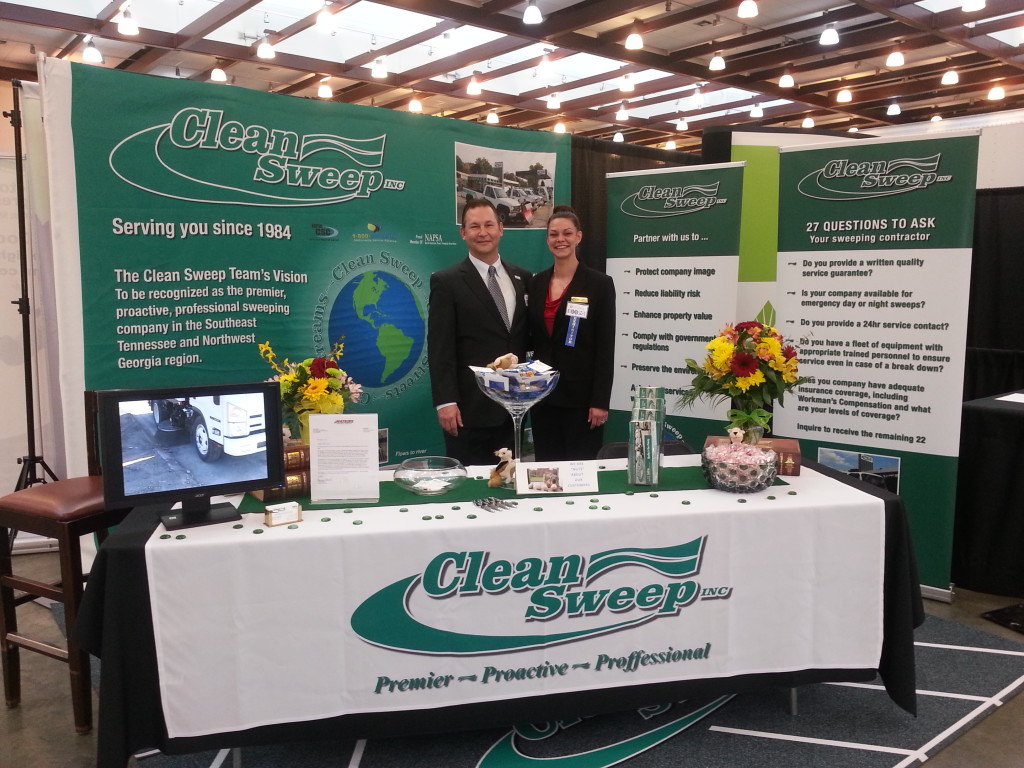 If you look carefully at Pete's booth, you may notice a sign that says "27 questions to ask your sweeping contractor."  We asked Pete about his 27 questions, and his response was so thoughtful, we decided to share it with the group.  Pete's business coach recently prompted him to think long and hard about his unique selling proposition.  Simply put, Pete's advisor was curious how he could differentiate himself from the competition.  Everyone likes to tout low cost and outstanding customer service, but as we all know, promoting your company as a low cost service provider isn't the best way to grow a business.  For Pete, winning contracts is all about helping customers make informed buying decisions, and his list of 27 questions to ask a sweeper service provider is crafted with education in mind.
His sign isn't large enough to list all 27 questions, and even if he could, he wouldn't want to have them all printed on his booth signage.  Instead, his shortened list is a conversation starter.  It doesn't take much imagination to envision a scenario where someone walks by his booth, scans his quick list, and asks for the rest of the story.  Doing trade shows well is all about crafting a story, and in our eyes, Pete has done this quite well.
We asked Pete for more information, specifically inquiring about the ideas that garner the most attention during his presentations.  For Phillips, the key to taking a property manager from suspect to prospect to customer starts with a discussion of liability.  Specifically, how does a sweeping service contractor relieve a property manager or business owner of liability?  How and when do they report pot holes in the pavement?  Does the contractor carry enough insurance coverage?  How will your contractor dispose of the sweepings?  These simple questions (and their answers) often create that "Aha moment" that differentiates a professional sweeping company from a contractor that is simply selling on the basis of cost.
If you are like us, you are probably wondering, does Pete have a follow-up pdf flier with all 27 questions and their answers?  The answer is yes….but you'll need to contact Pete directly to receive the document as he doesn't want this valuable information falling into the hands of his competitors.
Do you attend local business expos to promote your sweeping company, and if so, how do you share your story?  If you would like to share your approach with the rest of the group, please contact Carolyn Bell and we will make arrangements to conduct an interview and publish your article in our blog.  By sharing freely, we'll continue to grow our community—and our businesses—one idea at a time.