After putting in his time with seismograph, Bruce Biddinger saw a much bigger and better opportunity, so he purchased what is now Great Lakes Striping & Sealing, Inc., back in 1989. Even with his wife in tears as they left the bank, Bruce had a vision and seized the opportunity with confidence, knowing he could build a legacy! His entrepreneurial genes and risk taking, "baby boomer" mentality has taken this company from one truck and trailer to the 30 vehicle (7 of which are sweepers), 35-employee strong POWERHOUSE it is today. Like most of our partners, Great Lakes is a family owned and operated company.  Bruce works side-by-side with his two hard working sons, Nik and Corey who have been groomed for their upcoming entrepreneurial journey by their father. Although he can be a bit old school, Bruce is willing to embrace good ideas or challenges, even if they run contrary to his own ideas or beliefs, if they make sense.
After catching a glimpse of 1-800-SWEEPER's print and web ads, Bruce thought it might be a good investment to attend last year's Sweeper Summit in Detroit, MI. After some conversation with his son Nik (who had been working at improving their sweeping division), they were on board and excited to see what 1-800-SWEEPER had to offer. With the help of Mike Lucht and Carolyn Bell, they were in route to Detroit from Traverse City with high spirits and open minds!
Returning home drenched from the fire hose of information thrown at them, they managed to come back in once piece. According to Nik, the Sweeper Summit was "a GREAT investment for the company… an unparalleled opportunity that came around at the PERFECT time." When pressed for more details, Nik spoke at great length about the experience, noting "We never had a business plan…we never committed to goals in writing….we mostly shot from the hip!" This all changed after returning home from the Summit.
These days, visitors and employees entering the corporate office of Great Lakes Striping & Sealing, walk past the "Can You Imagine?" wall. After hearing Cameron Herold , the folks at Great Lakes decided not only to create a "Painted Picture", but to put the "paint brushes" (in this case) in the hands of the employees. This idea came from a company-wide motivational meeting held on January 3rd of this year. "It was a bit of a surprise for our employees when we unveiled the paint and brushes, so some people were put on the spot so to speak.  Our employees had to put some thought into what our company would look like to them, 3 years from now. The picture has been slowly evolving over time as our employees have taken the time to commit their dreams and aspirations for the company to the wall. This has made a huge impact on our working environment and has set the tone for the 'Culture' we are trying to establish."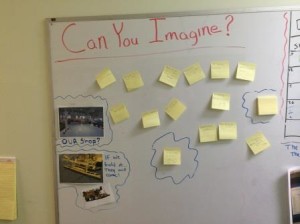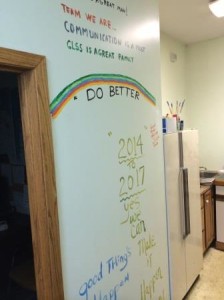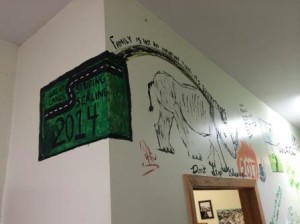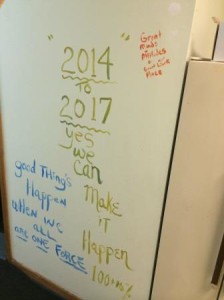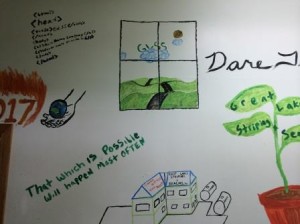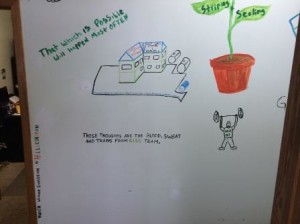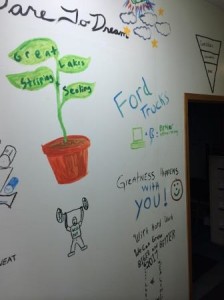 It is easy to come home from such a dynamic seminar such as the Sweeper Summit and let some of the hype and enthusiasm fade over time, but the folks at Great Lakes Striping & Sealing aren't about to let this happen.  Employees immediately noticed Nik had a FIRE lit under him, and they have been rallying to take the business to new heights ever since.
Great Lakes will be providing parking lot and street sweeping service to customers in area codes 231 (Traverse City, MI) and 989 (Gaylord, MI). Please extend a hearty 1-800-SWEEPER welcome to Bruce, Nik and Corey Biddinger, as well as the entire crew at Great Lakes Striping & Sealing, Inc!