---
1-800-SWEEPER Partners can contact Ben Steyer at 419-708-7806 with any questions about these tech tips or their company's specific digital marketing programs.
---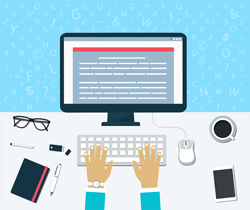 After you've covered the basics – the sweeping and maintenance services your company provides – you're out of things to write about on your website, right?
How in the world would you ever have any additional material to add to your own website?
The reality is, there's an almost endless supply of content to be written about your industry if you know how to conceptualize it, but most sweeping service companies don't know how to find new ways to add content to their own site.
You will succeed if you separate yourself from this group. There are compelling reasons to buck this trend and find ways to continually add content to your company's website.
Many of your prospects are utilizing search engines to find solutions to the problems that you solve. Having even a single piece of narrowly focused educational material can separate you from competitors in ways that make your company stand out as a solutions provider.
Additionally, Google and the other major search engines reward sites that appear fresher by periodically adding content.
The trick is in finding creative ways to produce additional content for your site.