---
1-800-SWEEPER Partners can contact Ben Steyer at 419-708-7806 with any questions about these tech tips or their company's specific digital marketing programs.
---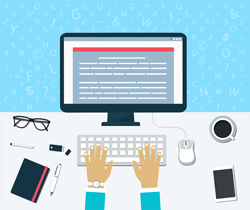 After you've covered the basics – the sweeping and maintenance services your company provides – you're out of things to write about on your website, right?
How in the world would you ever have any additional material to add to your own website?
The reality is, there's an almost endless supply of content to be written about your industry if you know how to conceptualize it, but most sweeping service companies don't know how to find new ways to add content to their own site.
You will succeed if you separate yourself from this group. There are compelling reasons to buck this trend and find ways to continually add content to your company's website.
Many of your prospects are utilizing search engines to find solutions to the problems that you solve. Having even a single piece of narrowly focused educational material can separate you from competitors in ways that make your company stand out as a solutions provider.
Additionally, Google and the other major search engines reward sites that appear fresher by periodically adding content.
The trick is in finding creative ways to produce additional content for your site.
Writing for Your Own Site
If you have recently done any online research, you have likely found that FAQs (Frequently Asked Questions), blog posts, well-crafted video tutorials and many other forms of helpful information are readily available from a variety of sources. With each passing year, getting a solid overview on a topic is easier thanks to companies and individuals willingly sharing information that helps inform and educate.
Creating additional content can be as easy as supplying something that can help your customers and prospects. One of the best ways to create quality content that satisfies these goals for your customer base is by thinking like an educator.
Tip #1 – Teach What You Know – But Also What They Want to Know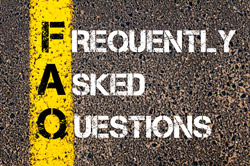 "What are some of the questions that your customers ask?"  This is often the starting point when we coach clients on generating writing topics for their websites. Sitting down with the people who answer the phones and respond to sales-related emails daily and having them describe questions that often come up from customers or prospects can be a great  starting point for compiling a "Frequently Asked Questions" list.
A successful technique to get writing inspiration is by reading "how-to" instructional articles from a similar industry. For example, professional pool cleaning or roofing maintenance might be areas where trained professionals may need to compete with self-service.  "Is it better to hire a _________ service or self-clean?" could be an example useful for discussing exterior building maintenance options.
As participants in 1-800-SWEEPER and NAPSA, many of the systems, internal tools and education you work with set your sweeping company apart from local competitors.
Having a blog article, FAQ or other educational materials on your website gives you an opportunity to explain how and why those tools help your customers.
One way to tout assets that you've invested in can be to point out what constitutes "proper maintenance techniques, service cycles or reliability standards."  Let's say your company uses GPS to provide verification of services.  You can write about why this is important and the problems that can occur when the same sort of services are performed by competitors that lack similar verification capabilities.
Likewise, you can explain in clear terms how working with a company that has drug testing and quality training for employees provides value and security for property owners.
Possible Writing Prompts:
We Joined NAPSA to Give Better Value to our Sweeping Clients
Being Part of 1-800-SWEEPER Helps Our Customers Every Day with These 3 Benefits
Our Guarantee of Sweeping Service is Supported by Utilizing 3 Industry Tools
Tip #2 – Tell Them Something They Don't Know
Your true audience is someone who MIGHT buy services from you. Providing information on your website that introduces something likely not in your prospect's knowledge base helps the prospect and your company.
These people are purchase influencers – a highly targeted group of people within your region, who have the authority to hire your company or authorize an expenditure that includes your services. Essentially, a "nano-audience" that you definitely want to reach.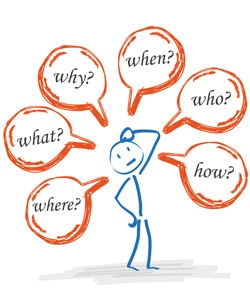 Picturing a nano-audience allows you to mentally identify a specific person when developing content. Think of a person with an agenda and specific concerns that you can address as you craft an article or checklist. Although you may write as though addressing the concerns of a single, specific person, it is better to solve common issues that come up repeatedly.
Write what you know – while answering the "Big Six" – Who, What, When, Where, Why and How.
People ask Google a LOT of questions. You can go to Google and see some specific searches related to property maintenance, power sweeping, regulations for SWPPP etc.
Beyond the Big Six, here are some suggestions for writing topics that address questions/concerns related to pavement maintenance, sweeping, environmental concerns and contracting with an outside labor force:
Definitions / Descriptions
Benefits of…
Pros / Cons
Types / Classifications
Myths / Misconceptions
Qualifications / Laws / Regulations
Correlation / Causation
Timelines / Scheduling Frequency
An example of a problem-solving writing prompt would be a high-level educational piece explaining applicable insurance within the parking lot maintenance industry.  You could educate Facility Managers and owners by explaining how comprehensive and appropriate levels of insurance coverage – including liability coverage and worker's compensation – keep property owners protected from claims.
Tip #3 – Think About Being "Found." But Not Too Much.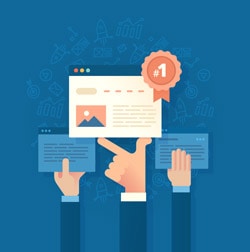 Search engines essentially try to match user's intent (what is someone searching for) with content on a website. By content, we mean the specific article or page that seems to best have potential to give the answer that is most helpful.
This is where incorporating terms for which you want to be found – e.g. parking garage scrubbing – helps your content show up in search results when someone researches a topic like "What chemicals can be used when scrubbing a parking garage deck?"
One of the most effective "storage locations" for your newly created content can be a blog on your site. Like the blog on 1800SWEEPER.com, a blog section within your website can hold content that has general information but doesn't require top-level navigation like your primary services.
Putting content into your blog allows search engines to find and index the content.  People researching information that your content covers can then arrive directly at that page on your website "organically."
People often ask how long a blog post or other page content should be. A solid rule of thumb for length is to target at least 350 words per written piece. Although not an absolute minimum, 350 words or more gives the search engines some context on the subject, allows you to incorporate terms important to your business and can give the piece a better chance to show up in search results.
The strongest tip for showing up organically in search: Use the headline to both clearly indicate the article's topic as well as incorporate terms and phrases for which you would LIKE to be found.
Although you won't always know what keywords searchers will use, you do know that there is value in showing up with answers when customers have questions about the services your company provides. Having several pieces of content about the same overall topic, each taking a slightly different approach or angle, improves the chances of your website showing up for related searches.
Conclusion:
Having a plan to add content to your website over time allows you to expand out into different angles about the specific services you provide and helps educate your prospective customers.
Tools that can provide utility for even a small subset of customers or prospects have value. While the material you create may seem educational as opposed to promotional, content that customers and prospects find truly useful can be the best at raising awareness and appreciation for your company, which can go a long way towards keeping existing customers and establishing new ones.
A great way to generate topics to write about is through listing out questions commonly asked by your prospects or customers.
Every page on your website is a potential entry point into your company – open another doorway and more people will come in!