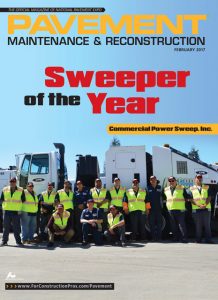 The 1-800-SWEEPER Board and membership congratulate Ken Lindsey and his well-deserved selection as NPE Sweeper of the Year 2017.
Ken was presented with the award during the National Pavement Expo in January 2017. Ken is a true industry leader and educator whose goal is to help others experience growth like that of his Napa, California based company, Commercial Power Sweep.
As a second-generation owner/manager, Ken says that he has learned a wealth of information through attending the National Pavement Expo (NPE) and NAPSA affiliated workshops and 1-800-SWEEPER roundtables.