With over 120 attendees representing 42 different Member Partner companies and 17 Vendor Partners of 1-800-SWEEPER the 3-day, 2017 Sweeper Summit was a resounding success! For the fifth consecutive year, attendance at Sweeper Summit grew significantly, as did the opportunities for Partners to interact. Before the Summit even got underway, equipment manufacturer TYMCO hosted 1-800-SWEEPER Partners at the company's Waco, TX training facility.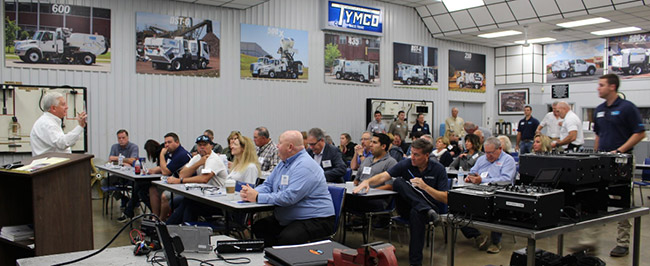 As in previous years, the Benchmark sessions started on the first official day, allowing participants to discuss in an open, non-competitive atmosphere key business costs for labor, insurance, equipment maintenance, tires, employee turnover, etc. as well as other, relevant metrics that drive bottom line profits and day-to-day operations within our niche sweeping service industry. This highly anticipated part of Sweeper Summit was again led by Tom Noon of Industry Insights.
As Michael Cantel President of Cantel Sweeping commented: "Sweeper Summit attendees came looking to view their numbers as cross-compared with sweeper service peers. The best part is the attendees are not your competitors, you can ask questions and they will be open and honest with you."
Many participants consider the Benchmarking feature of Sweeper Summit to be enough for it to be recognized as the premier executive level workshop retreat in the power sweeping industry.
Best Practices Training Featured Partners and Vendors
Over the course of the first 2 days, vendor presentations were intermixed with Best Practices workshops led by Member Partners.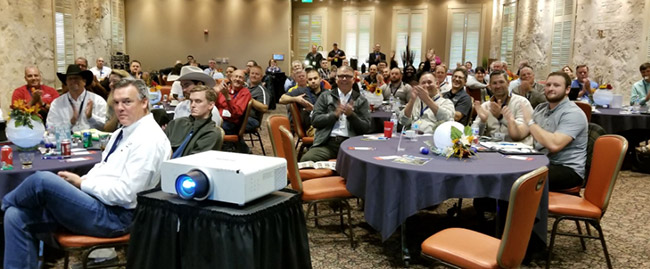 Some specifics: Electronic data control for fleet maintenance via Fleetio was led by Scott Duscher of Agua Trucks, Inc. in Phoenix, AZ. Gerry Kesselring (Contract Sweeping, Columbus, OH) shared his company's experience setting up a structure and procedures for use of dashcam video recording technology provided by Drive Cam and proper review of videos following an incident. Mark Carter of Peloton Sweeping in Orange County CA took on hiring and employment screening best practices.

Digital marketing sessions included best practices for website marketing within your local reach market led by Rick Brown of NetTrack Marketing in Cleveland OH. Social media marketing – with a focus on optimizing Facebook presence – was facilitated by Derek Rayburn of Scenic City Studios in Chattanooga, TN.
Bob Holdridge of Toledo, OH demonstrated how his company – Progressive Sweeping – uses Eagle Eye Tracking which is a robust web based enterprise management tool for route and job scheduling and reporting, and also includes a billing export feature that allows export to QuickBooks.
Equipment Showcase is the Highlight
Held at the base of the Tower of the Americas in Downtown San Antonio, for many attendees the highlight of the event was a 2-hour hands-on Equipment Showcase / Cocktail Reception which provided a unique opportunity to experience some of the very newest power sweeping vehicles in the industry.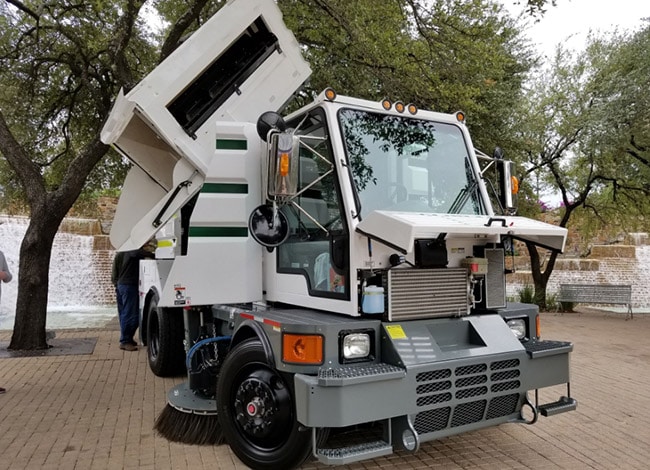 Thanks to enthusiastic participation by Elgin, Global Equipment, Masco, Nitehawk, Schwarze, TYMCO, and Well Made, this newest addition to the Sweeper Summit agenda was incredibly well received. Immediately following the Equipment Showcase, guests ascended 750 feet to the final group dinner of the 3-day event, enjoying a spectacular, panoramic view from the Observation Deck atop the Tower of the Americas.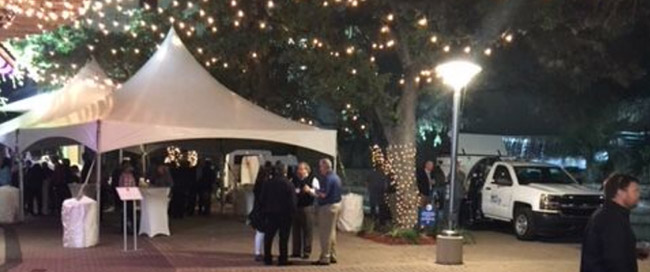 The final half-day session featured a highly engaging, memorable keynote presentation by "Antarctic" Mike Pierce. Mike – a two-time polar marathoner – shared lessons learned about himself, business and life in general derived from his Antarctic adventures and the training required to compete in sub-zero, white-out weather conditions.
Get Ready for 2018!
Sweeper Summit is an exclusive opportunity designed for management and CEOs in the power sweeping field to receive top-tier training, industry-specific benchmarking, and more. Next year's event is already scheduled according to 1-800-SWEEPER Marketing Director Carolyn Bell. It will be held November 7th through 9th in Las Vegas at the Lake Las Vegas Hilton. For advance notice of the event, contact Carolyn by email 

or visit the Sweeper Summit website.