Your 1-800-SWEEPER staff would like to thank all of the vendors, prospective partners and power sweeping company owners / management teams who attended our organization's fourth annual Sweeper Summit. Once again expertly coordinated by Member Services Administrator Carolyn Bell, this year's event was held in Phoenix AZ. Based on early feedback, attendees enthusiastically agree the conference was a huge success – educational, enjoyable and memorable!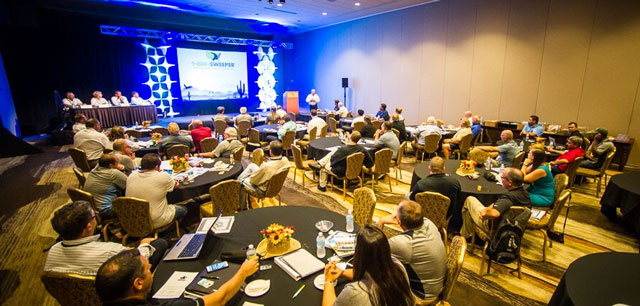 Unique within our industry, Sweeper Summit has come to represent an opportunity for our membership to share best management practices and deeply understand metrics specific to sweeping service businesses. At the same time, our group continues to get fantastic personalized training, together with old friends and new partners in a casual and relaxed atmosphere.
Unfortunately, due to critical personal or business events – from births and deaths in the family, to the aftermath and cleanup associated with Hurricane Joaquin in South Carolina – several of our partners had situations preventing their attendance. As with all the programs 1-800-SWEEPER offers, partner participation and involvement is the underlying ingredient for our mutual success. Therefore, you were missed!
Below is a brief recap of the events that highlighted Sweeper Summit 2015:
Sunday evening's poolside welcome reception brought together old friends and new partners in a casual and relaxed atmosphere.
Monday morning began with a benchmarking workshop session led by Ken LaCroix. Ken has previous experience leading 1-800-SWEEPER members in analyzing compiled data submitted by our group's partner companies. This analytical approach has proven to be an invaluable resource for our partners within the power sweeping industry, offering us a composite view of information such as the amount of overtime paid, cost of insurance, employee turnover rates and more. The group feedback stirred interesting conversations on various topics that spilled over into topics tied to Best Practice discussion session after lunch.
Monday evening's dinner at the Point of View Restaurant was an "over the top" experience that will not soon be forgotten by anyone present including our Tuesday morning speaker Dan Barnett, who briefly spoke to the group.
Dan Barnett's Tuesday morning "Make or Break Execution" message was delivered in a workshop atmosphere that allowed thoughtful reflection on each attendee's business. Over the course of the morning, Dan helped us individually focus  – ultimately developing "one thing we must do" to build our value and achieve our stated objectives, including those of 1-800-SWEEPER.
Harry Barth filled our Tuesday afternoon with insightful discussion to help us understand the importance of proper business and personal asset protection planning. This is a critically essential piece of financial planning that many business owners and their advisors typically overlook.
Professor of Neural Science and Psychology, Wendy Suzuki got us on our feet Wednesday morning to demonstrate scientifically proven positive benefits on the brain's creativity. Wendy showcased her focal area of study and teaching  people's ability to focus and positively affect attitude combining daily physical activity with positive affirmation statements. I am Strong – I am inspired – I am determined       – I am on FIRE!
Those of you who were unable to attend Sweeper Summit 2015 – we'll see you next time!