By leveraging mobile phone technology, the 800 App improves customer service and speed of interaction between our partners and customers. The 1-800-SWEEPER App is another way 1-800-SWEEPER differentiates itself from others in the power sweeping industry.
Download the 1-800-SWEEPER App today!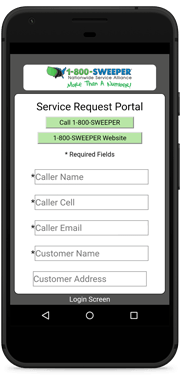 Here are some of the highlights of this unique service:
Current customers can request service directly to a partner by downloading and using the 1-800-SWEEPER App rather than calling or emailing
Prospective customers can request service in the same manner.
Sweeping service customers can also click through directly to the call center or 1800sweeper.com from the App.
Service requestors will know which regional partner to expect a call from –that company's logo appears on the app for the service area requested.
The 800 App is a reliable and innovative tool created to help with 1-800-SWEEPER partners and affiliate members to both retrieve their leads and empower them to manage their leads.
Get the App: