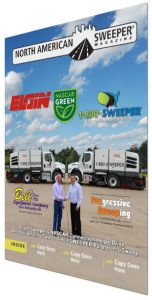 The September 2017 issue of North American Sweeper hits a trifecta of coverage for our group highlighting the relationship between Elgin Sweeper Company, one of our 1-800-SWEEPER Member Partners, ProSweep and vehicle dealer Bell Equipment. All three companies are tied together in a story that highlights Elgin Sweeper Company as one of our newest Vendor/Partners to support our co-op group. Elgin brings exclusive 1-800-SWEEPER discounts and unique social/entertainment value of NASCAR to our membership.
Elgin Sweepers have been an essential part of keeping NASCAR events safe for over 15 years. In 2013, Elgin became the Official Sweeper of NASCAR Green. As the Official Sweeper of NASCAR Green, Elgin sweepers support NASCAR's Air Titan equipment to dry rain-soaked racetracks, saving jet fuel and reducing NASCAR's overall carbon footprint.
That unique environmentally conscience relationship now extends to the sweeping companies that form the Member/Partnership under the umbrella of the 1-800-SWEEPER co-op. Our Member Partner companies now have the unique opportunity to entertain customers, employees or even family members with the unique experience of infield garage passes and track side in-the-pits access for a close-up view of NASCAR's race day experience.
This summer, Elgin added the 1-800-SWEEPER Foundation's logo prominently on top the front bumper toolbox of the Elgin Crosswind Specialty Track Sweepers after receiving special permission granted by NASCAR.
North American Sweeper's cover story talks about how in August, regional Elgin Dealer Jimmy Bell delivered two new Broom Bear Sweepers to Jason Lucht, VP Operations of Progressive Sweeping in Redford, Michigan.
As Jason said: "While the need for additional equipment resulted from increased demand for ProSweep's highway and municipal sweeping services the ability to entertain clients by providing complimentary "Hot" passes to the local premier NASCAR events at Michigan International Speedway (MIS) allows ProSweep to leverage and expand our brand identity with 1-800-SWEEPER and NASCAR through the Elgin Partnership."
We're very excited that Elgin Sweeper Company has joined our expanding roster of Vendor/Partners and is now firmly behind 1-800-SWEEPER, contributing both exclusive discounts and unique social/entertainment value to support the 50-plus sweeping companies currently part of our co-op group.