We're Hiring! Nothing says company growth quite like a HELP WANTED sign. And sometimes, taking your message right to the streets is the best way to get word out there. Enter the humble truck magnet…

To help increase the number of job applicants who have a clean driving record, Carolyn Bell is sending out samples of magnetic signs you can use on your vehicles. The magnets let people who see our vehicles on the road know that we are "on the grow" and encourage potential job applicants to visit the 1-800-SWEEPER jobs web page. On that page, pre-applicants can check out our Night Sweeper and Day Sweeper orientation videos and even communicate with us.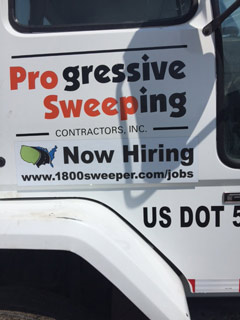 As pros in the power sweeping Industry, 1-800-SWEEPER Partner companies recognize employment opportunities for sweeper truck operators can be extremely fulfilling when matched with the right individual. But there can be a disconnect between your job opportunity and getting a qualified, currently employed Class A, B or C driver applying to be trained as a street sweeper or parking lot sweeper operator.
Someone who sees your sweeping truck on a regular basis may not have ever considered pursuing a job application. These magnets will help let them know we're looking for employees, maybe even encouraging them to interact with your employee to find out about the industry and your company in specific.
These magnets are just one more part of the benefit of being part of the 1-800-SWEEPER organization!