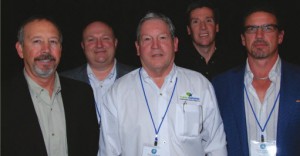 There is something truly satisfying about seeing positive press coverage of your company or organization in a national trade publication, so we were naturally pleased to read Jennifer Taylor's glowing review of our inaugural Sweeper Summit in this month's edition of North American Sweeper.
Our initial goal was to motivate, educate, and entertain 50 attendees last fall, but our meeting facility was filled to capacity with 75 sweeping contractors and 1-800-SWEEPER members, as well as representatives from major manufacturers such as Schwarze, Nitehawk, Elgin, Tymco, and Johnson in attendance.  From nationally renowned motivational speaker Boaz Rauchwerger's half-day presentation on relationship building to the benchmarking and goal setting sessions, 1-800-SWEEPER president Mike Lucht's Sweeper Summit vision was to deliver world class content that attendees could apply to both their personal and professional lives.  To see more coverage of Sweeper Summit 2012 or to view the January edition of North American Sweeper, click here.
We would like to thank all of our attendees for making this event such a tremendous success and welcome your feedback.  If you have suggestions or would like to share a testimonial, please contact Carolyn Bell.  Planning for the 2013 Sweeper Summit is already under way so stay tuned for details as they become available!