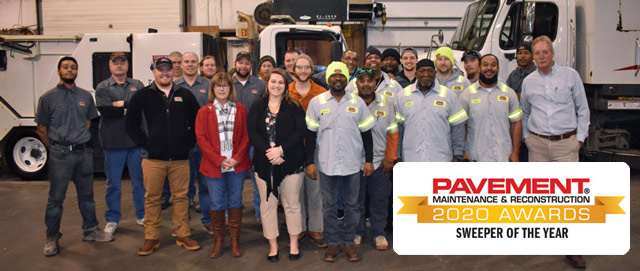 Congratulations to 1-800-SWEEPER Partner, Karl Stauty of Commercial Power Sweeping for winning the 2020 Sweeper of the Year Award from Pavement Maintenance & Reconstruction Magazine.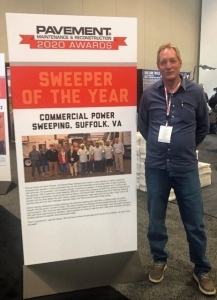 Karl has been in the sweeping business since 1986 and has grown from a couple of parking lot trucks to becoming the premier sweeping choice in Southern Virginia/Northern North Carolina. Not only does he perform parking lot sweeping but moving into municipal and construction sweeping has really grown their business. Ancillary services such as sign installation & repair, pavement repair, power washing as well as providing property management services like the installation and removal of seasonal signage are also available.  Karl manages the business with his son, Daniel, son-in-law Brian as well as his wife Lorean – a true family business.
Karl credits two key ingredients of the Suffolk, Virginia-based street sweeping company for the company's recognition as 2020 Sweeper of the Year – exceptional employees and high-performing equipment. The award was presented by Pavement Maintenance and Reconstruction during first night ceremonies at National Pavement Expo January 28, 2020 in Nashville, TN.
Experienced, Trained Operators Deliver an Outstanding Level of Service
"Our municipal and construction sweeping vehicle operators have many years of experience and are highly trained at the type of sweeping they will be doing for our customers – both commercial and municipal" Karl says. "Ongoing professional training programs enable us to offer the most thorough and reliable service procedures available. Our employees are proud of their company and their work. Customers see this enthusiasm reflected in our team members' attitudes and quality of their work."
Commercial Power Sweeping's Well-Maintained, Late Model Sweeper Fleet
Commercial Power Sweeping has both heavy-duty air and broom sweepers available for our municipal and construction sweeping customers. This ensures that we always have the right sweeper on the job, unlike smaller, less professional companies that are forced to send whatever sweeper they happen to own onto a jobsite. As an example, the company has the capability to maintain dust suppression even in sub-freezing weather, which means crews can stay on the job when other companies have their fleet parked. Because of the extensive size of Commercial Power Sweeping's fleet, a backup sweeper is always available by radio, for immediate service in the event of a breakdown.
To read the complete story highlighting the company's success and strategies, follow this link to Allan Heydorn's article: "2020 Sweeper of the Year." Congratulations to Karl and his team at Commercial Power Sweeping on a job well done!