Dennis Hiller and his sons, Jeff and Greg, of Southwest Sweeping have been sweeping Cleveland area streets and parking lots since 1974.  For those who know the sweeping business, when you think about Southwest, you think consistency…longevity…a family owned company that is in it for the long haul.  And if you ever stopped by to visit the Hiller's at their old shop in Middleburg Heights, it was clear from go that they had been there a very long time.
We had an opportunity to meet up with the Hillers in Detroit at this year's Sweeper Summit.  During the conversation, Greg casually mentioned that Southwest had moved into a new facility and asked us to make sure his address was updated in both his Cleveland Street Sweeping and Parking Lot Sweeping Landing Page and his directory listing.  While we were making the changes to Southwest's contact information, it occurred to us that the news about their move belonged in our blog and in our newsletter too.
The Hiller's had been talking about moving to a new facility since 2006.  At the old shop simple tasks such as replacing a hydraulic line on the scissor lift of a broom sweeper would have to be done outside.   Their shop lacked enough room to inventory all of the spare parts needed to keep their business running and office space was limited.  Despite these obvious limitations, the economic downturn of 2008 hit Northeastern Ohio hard, putting the moving plans on hold.
Last year, the father and son team finally found a perfect new home:  a modern, 9,200 square foot shop with ample office space, room for inventory storage, and a 5 ton bridge crane.  Having a short, ten minute commute to and from the shop was frosting on the cake.  In December, 2012, Southwest officially opened the doors for business in North Royalton.  According to Greg, "The move was a tremendous undertaking since we had been at the same location for over 30 years. It was a big change and we had our share of concerns, but it was time…..we needed this new space to take our business to the next level."   Months later, Dennis, Jeff, and Greg aren't looking back and the future looks bright for Southwest Sweeping.
Here are some before and after pictures……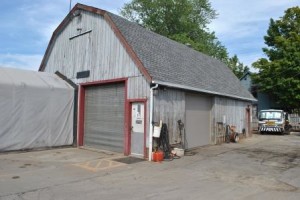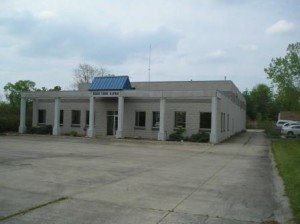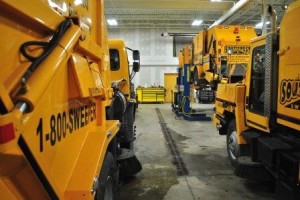 Do you have company news that needs to be added to your website and/or shared with the 1-800-SWEEPER family?  Are you better at running a sweeping service company than writing?  If you said yes to either of these questions, you are not alone…..we'll make your company shine.  Send your story ideas and pictures to Carolyn Bell and leave the writing to us!  We hope to hear from you soon.