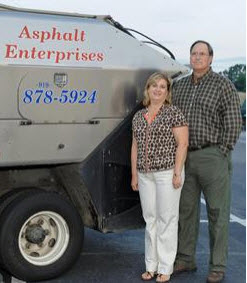 We'd like to extend a warm 1-800-SWEEPER welcome to Sylvia and Scott Richards, owners of Asphalt Enterprises in Raleigh, NC.
Asphalt Enterprises has established itself as one of the premiere asphalt maintenance and sweeping contractors in Raleigh and the Research Triangle Area. Specializing in pavement maintenance and sweeping, they offer a full range of asphalt related maintenance services.  With over 25 years of experience in providing complete and personalized services, they pride themselves on satisfying customers with a high quality product in a timely fashion, while maintaining competitive prices and guaranteeing all materials and workmanship.  They will offer parking lot sweeping and street sweeping services in the Raleigh, NC area.
Please be sure to welcome Sylvia and Scott to the 1-800-SWEEPER family!