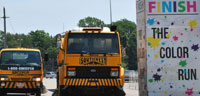 Several 1-800-SWEEPER members have been called in over the past months to provide clean-up services for the nationwide Color Me Rad and Color Run 5K races. In these races, spectators pelt runners with colored corn starch along the route, with a different color for each kilometer. Needless to say, it gets messy.
Karl Stauty and his Commercial Power Sweeping team were the first to experience the color bombing fallout at the Color Me Rad race in Virginia Beach. (That's his truck below.) With some experimenting they discovered the best way to minimize airborne corn starch while operating the sweeping units. They also discovered that wetting the surface prior to sweeping did not help clean up and served only to create a soup-like substance. Karl and company shared their findings with 1-800-SWEEPER members who were contracted for later races in other states, saving them time, effort and a lot of water.

Race administrators were very happy to find street sweeping service crews willing to share information with each other. They'll be contacting 1-800-SWEEPER members for each city race. Southwest Sweeping provided clean-up services for the Cleveland Color Run race and CSS Industries served the Hartford, Connecticut Color Me Rad race. Immaculate Power Sweeping will be working at Boston's Color Me Rad race in July.