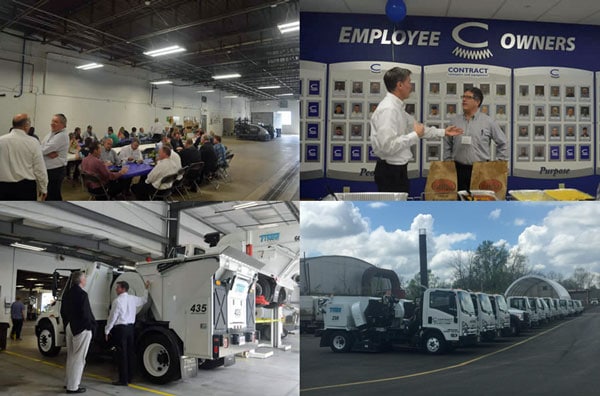 Two of our member partners recently moved their entire operations to new, modern, expanded facilities. Contract Sweepers in Columbus, Ohio and TKG Environmental Services Group in Waukegan, Illinois have both moved to expanded facilities.
TKG Environmental Services Group provides a comprehensive range of services in Northeast Illinois and Southeast Wisconsin. Their operation is a turnkey environmental solutions provider featuring roll-off container rental, regularly scheduled sweeping and recycling of construction / demolition debris.
TKG typically partners with commercial builders, municipalities and homeowners to create cost-effective ongoing service that can include both clean-up and recycling of demolition materials. The combined resources of their company can allow construction companies to get qualified LEEDS credit and recycled materials documentation while keeping their demolition debris out of a landfill.
The two brothers who run the company – Rich and Dan Katz – realized about 2 years ago that they were running out of room as they expanded the business by purchasing the American Recycling Systems dumpster / container business in Zion, IL. That purchase allowed the brothers to control the service and timing of dumpster availability as well as generate additional revenue from the rental of dumpsters to other people in need.
With the expansion and additional capabilities, the team went looking for a new home, finally settling on a site at 345 Lakewood Ave. Waukegan, IL 60085. The new facility will house their maintenance garage, indoor parking storage and recycling center and sits on just over 4 acres of land. Best of luck to TKG and Rich and Dan as the recycling portion of their business comes on-line later this summer.
In Columbus, Ohio, a 5-year search for expanded facility space came to an end at the beginning of 2016 when Gerry Kesselring, President of employee-owned Contract Sweepers moved to new digs that includes over 6 acres of land, multiple buildings and even their own road salt canopy. The Contract Sweepers organization is unique in several ways and those points came together to create a fairly unique set of requirements.
For starters – the company fulfills 3 distinct functions. They of course do contract sweeping of parking lots, garage facilities, municipal roadways etc. in Central and Southern Ohio and Northern Kentucky. Contract Sweepers also rents out some of their equipment – from heavy duty DOT-worthy vehicles for specific jobs, down to in-plant riding or walk-along sweepers for DIY warehouse cleanups.  Contract Sweepers also is one of the only active TYMCO machinery dealers in the country to be simultaneously involved in representing and selling new equipment in central Ohio and providing services using that same equipment – a unique blend that allows for a lot of verifiable expertise in equipment suggestions.
Having acquired a fleet of over 150 vehicles since their modest beginnings in downtown Columbus, Ohio, Contract Sweepers needed a LOT of additional room for parking. Maintaining those vehicles also required their own in-house wash bay space.  Finally, they also found the need for indoor showroom space for new equipment as well as an active replacement parts storage area and service counter for the replacement parts to service people who have purchased sweepers.
The stunning new facility at 2137 Parkwood Avenue Columbus, Ohio 43219 was officially christened on Earth Day – April 22nd with a huge open house and tours. Congratulations and best wishes to Gerry and his crew!