Join 1-800-SWEEPER at NPE in Nashville February 1- 3, 2017 as we demonstrate one of our newest benefits for Partner companies, a sweeper operator training simulator. The SweeperSim is the first-in-our-industry simulated driver training tool developed to give real-world experience and best practice training to new and current sweeper truck operators.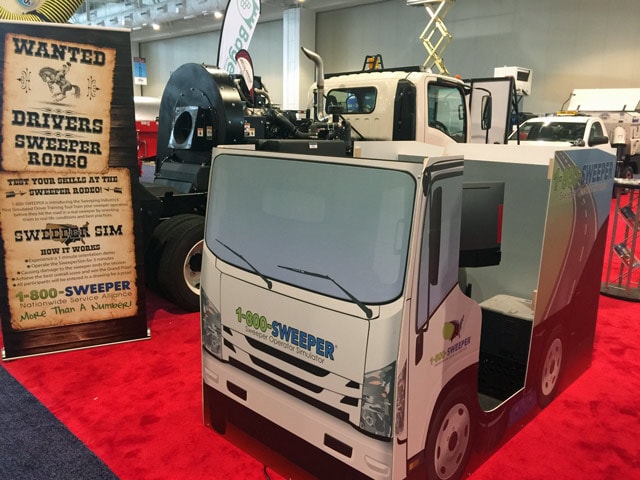 During the upcoming National Pavement Expo, we're inviting NPE attendees test their parking lot sweeping skills by participating in our "Sweeper Rodeo", co-sponsored by Schwarze Industries and Nitehawk Sweepers. SweeperSim was introduced to nearly 50 Partner companies during the annual Sweeper Summit in November 2016. If the enthusiastic interest at the Sweeper Summit is any indication, NPE attendees are sure to be in for fun and enlightening experience with this new technology.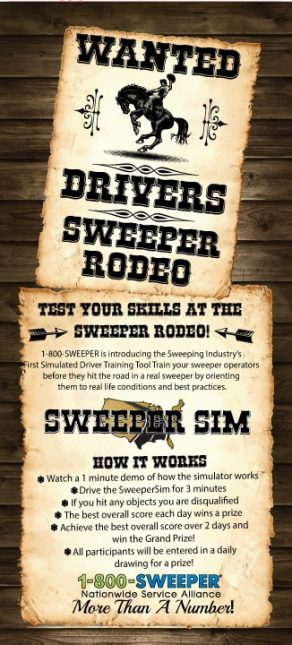 The Sweeper Rodeo will run February 2nd and 3rd on the NPE show floor in 3 locations: 1-800-SWEEPER (Booth #1529), Schwarze Industries (Booth #1209) and Nitehawk Sweepers (Booth #653).
Here's how the Rodeo works:
Each participating driver will experience a 1 minute demo session to get familiarize with how the SweeperSim works before beginning a 3 minute test session to measure their skills and achieve the best score. If you hit any obstacles, which could damage the sweeper, the participant's session will immediately end as disqualified without a score. Participants can enter as many times as they wish to improve their score. Keep in mind, faster is NOT necessarily better!
All Sweeper Rodeo "Riders" will be entered in a random, daily drawing for a Redmax Backpack Blower (a $330 value)
The best overall score each day will win a 1-800-SWEEPER Back-up Camera (valued at $375)
The Grand Prize Winner, achieving the best overall score over 2 days, will win a set of Goodyear LT215R16 tires (valued at $620)
Every "participant/driver" who achieves a score, taking part in the Sweeper Rodeo, will receive an LED Personal Programmable Name Badge (a $20 value)
There will be a 1-800-SWEEPER representative at each SweeperSim display station to assist you and answer your questions.
Good sweeping to all and we'll see you at the show!