To many contractors, municipal planners, and property managers unfamiliar with our industry's best practices, a freshly swept street that looks clean is clean.  Like many things in life, appearances can be deceiving.  Did you know that using the wrong type of sweeper can leave behind up to 50% of the heavy metals and other pollutants attached to dirt particles?  What's more, the pollutants left behind don't just make for dirty streets—they represent a major threat to the water quality of our nation's streams, rivers, lakes, and oceans.
The North American Power Sweeping Association (NAPSA) is promoting an upcoming webinar presented by internationally renowned sweeping expert, Roger Sutherland, who will explain how to select the proper sweeping equipment and demonstrate how an effective street sweeping program can significantly reduce pollutants found in storm water.   Webinar attendees will learn more about the following topics as they relate to street sweeping and storm water run-off:
Review the results of the historic Nationwide Urban Runoff Program's assessment of the storm water quality benefits of street cleaning, and why those 1982 conclusions are no longer valid today.
Learn about the contaminated sediment-like material that accumulates of streets and highways and why its effective control results in a reduction of the pollutants normally found in storm water.
Identify the important elements of a street cleaning program that can be controlled and learn how these elements should be managed.
Acquire the knowledge needed to test the pickup performance of street sweepers and the evaluation of the results and why this matters.
As new environmental regulations are implemented and existing measures are more strictly enforced, each of our companies must become better informed and better equipped to deal with the environmental challenges presented by storm water run-off.  Simply put, we aren't just in the business of sweeping to keep streets and commercial property neat and tidy any more…we are being asked to become better stewards of the environment.  Attending Roger's webinar will help you do just that.
This post just happens to coincide with a Google Doodle celebrating Earth Day.  Folks who use Google may on occasion notice special artwork when they land on the search page.  Today's Doodle reminds us about the importance of clean water.  In case you missed it, we have included a screen capture: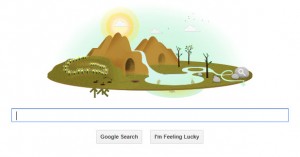 If you are interested in learning more about how an effective sweeping program can have a positive impact on water quality in your area, you won't want to miss this important webinar.  Here are the details:
Presenter:
Roger C. Sutherland, P.E.
AMEC Environmental and Infrastructure
Thurs., May 23rd @ 2 p.m. EDT / 11 a.m. PDT,
1-1.5hrs*
1 PDH / 0.1 CEU
$79.00
Additional information on this webinar can be found here  and attendees can register for this educational presentation by visiting Forester University's website here.