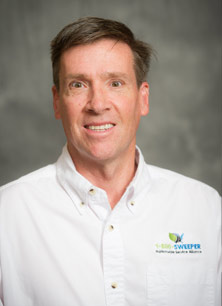 Board Member Bio
Gerry Kesselring
Contract Sweepers & Equipment, Inc.
Gerry Kesselring is a graduate of The Ohio State University with a Bachelor of Science in Business Administration while Majoring in Marketing. One year after graduation Gerry was hired by Contract Sweepers and Equipment in sales and to assist in operations. Gerry thought that this would be a 3 maybe 5 year job, some 23 years later Gerry is now President and CEO of the Company
Contract Sweepers and Equipment was founded in 1960 and in 2004 through Gerry's leadership the company was purchased from the founding family through and ESOP. Today Contract Sweepers and Equipment employs nearly 90 people throughout its Cincinnati and Columbus, Ohio locations.
Along with being a Founding Member of the North American Power Sweeping Association, Gerry was President of Association for a number of years. He has been asked to present to the National Pavement Expo and other groups many times throughout his years.
Gerry is an avid bicyclist logging hundreds of miles each month. He also serves as President of the Westerville Rowing Club, one of the top youth rowing organizations in the country.
Gerry and his wife Sonja live in Westerville, Ohio with his two children. His daughter is a sophomore at the University of Kentucky and his son is a junior in high school.