Watch our Partners describe the benefits they received
by joining the 1-800-SWEEPER network.
Partnership
Join the 1-800-SWEEPER team!
Our nationwide network of independent, locally owned and operated companies may be a good fit for your sweeping services company if you are looking for:
Marketing and Brand-Building on a Local and National Level
Centralized Internet Marketing Initiatives
24-7 Call Center with Uniform Follow up to Leads
Co-op Buying and Group Purchasing Manager
Buying Group Discounts on Equipment, Brooms,

Tires

,

Filters

and

More

Purchasing Rebates
National Partner Services Administrator
Centralized Billing / Accounting for Nationwide and Regional Sweeping Contracts
Partner Benefits
Our consolidated buying power has allowed us to establish relationships with a select group of vendor partners, resulting in substantial savings for all partners. Save on everything from janitorial and MRO supplies, sweeper brushes and brooms and more. Download the Partner's Detailer and learn about special savings opportunities available exclusively to partners of 1-800-SWEEPER.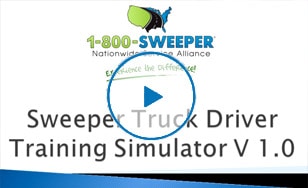 The scale of 1-800-SWEEPER's nationwide group of partner sweeping companies also allows us to actively create specialized tools that help us all be more efficient and successful. The sweeper operator training simulation module shown in the video here is one example. This innovative tool gives owners and managers in our partner companies the ability to test, train, and challenge new and veteran drivers.
Our goal is to be the best educated and most efficient safety-minded sweeping sales and service force in the industry. To date, we have developed and made available to our partners stormwater remediation training, an online tool for employee/operator recruiting, screening and profile testing, plus industry-leading marketing programs and group purchasing discounts and incentives on hundreds of items from trash bags to trucks! And with 5 years behind us, new opportunities are coming to us every month!
In the next couple months, look for additional exclusive innovations including an integrated software solution for Customer, Job, Route Scheduling, and Fleet Maintenance management empowered by GPS tracking that seamlessly exports to QuickBooks for billing.
Partners Forum
1-800-SWEEPER offers an active year-round problem-solving group on LinkedIn. Partner companies enjoy the opportunity to share tips, ask business questions, post equipment sales, and more within this private group. This private LinkedIn group is moderated and protected, and includes only top tier management. To join contact the 1-800-SWEEPER Partner Coordinator by calling today to get more information, or download the Partner Detailer and Qualification Questionnaire.
Partner Testimonials
"We were looking for the vendor savings to offset our partnership fees, but within our first 60 days we have completed five contracts that were referrals from 1-800-SWEEPER. The revenue from these referrals after expenses will pay for two years of dues!"

— Karl Stauty | Commercial Power Sweeping
"Since joining 1-800-SWEEPER we have had an abundance of job calls and the opportunity to bid recurring work at a national level. 1-800-SWEEPER has been great for our business and I would highly recommend other sweeping companies join as it will only generate additional work in your area!"

— Derek Grieco | Immaculate Power Sweeping

"I just want to express our gratitude 1-800-SWEEPER for being so on point with COVID-19 and preparing the members. It's great to be part of such a wonderful community! There is so much that goes into navigating through this process and all of this information is not only helpful, but it puts me at ease knowing that so many of us are in this together. Really great job! Thank you!"

— Nicole Cicillini | NYM Group

---

Meet Sweeper Man
---
Join us October 24 – 26, 2023, at the JW Marriott Las Vegas Resort & Spa as we attend the annual 2023 International Sweeper Summit & Equipment Expo.