Your Denver, Colorado 1-800-SWEEPER Sweeping Services Partner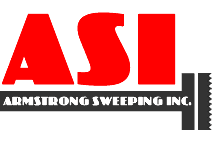 Armstrong Sweeping, Inc.
5350 Gray Court
Arvada, CO 80002
CALL US: 1-800-793-3737
Armstrong Sweeping was founded by Kerry Armstrong and his wife Marsha. They have been providing street sweeping and parking lot sweeping services from Fort Collins to the entire metro Denver area, including Littleton, Arvada, Wheat Ridge and Golden, and down to Colorado Springs since 1973. They have done street sweeping, parking lot sweeping, and highway cleanup in Summit County and Eagle County as well as Jefferson County. At Armstrong Sweeping, the fleet of trucks and street sweeping equipment is state-of-the-art. We do more with less, which means you get more for your money. Our company motto of "Getting the job done, no matter what it takes," means that no matter what it costs, the job is always done right. We pay attention to every detail. Nine times out of ten, if we receive a call, with even a little notice, we can do anything.
SWEEPING SERVICES WE PROVIDE IN DENVER AND SURROUNDING AREAS
Construction Sweeping
X area contractors know their local 1-800-SWEEPER Partner provides reliable 24/7 Construction Sweeping Service to help meet their challenges of today's construction climate.  Construction sweeping needs are easily outsourced to 1-800-SWEEPER keeping your crew productive, safe and compliant at your construction job sites near X.
Municipal Street Sweeping
Local X municipalities constantly look for new and innovative ways to stretch tax dollars further and street superintendents are eyeing street sweeping costs throughout X with more scrutiny. Maintaining a street sweeper is expensive and increased environmental mandates have prompted many in the X area to turn to professional sweeping contractors for street sweeping services.
Parking Garage Sweeping
1-800-SWEEPER Partners throughout Denver provide sweeping, scrubbing, and pressure washing services for parking lots, but for parking garages near Denver too.  To stay competitive and make a lasting impression, a clean and safe environment is essential to attracting and maintaining quality tenants and customers. 
Residential Street Sweeping
Denver Home Owner Associations and Street Superintendents recognize the value of street sweeping. Residents know that Clean Streets are safe streets! Enhance property values and promote community pride with the best street sweeping services near Denver.
Parking Lot Sweeping
Denver area shopping centers and office parks rely on parking lot cleaning and parking garage sweeping services to maintain a positive first impression. In today's challenging economic climate, maintaining clean and safe parking facilities is a requirement to stay competitive.  Call 1-800-SWEEPER for your parking lot sweeping near Denver today!
Milling and Paving Sweeping
Local Denver area project superintendents have multiple responsibilities that require staying on schedule. Milling clean-up must be dependable and efficient to allow the operation to move on to the next phase of the project. Delays caused by sweeper breakdowns from equipment operated by milling and paving contractors is common and costly. Let the professionals at 1-800-SWEEPER take care of your local Denver milling clean-up needs to allow your crew to focus on their core responsibilities rather than the clean-up, call 1-800-SWEEPER today!
Certifications and Affiliations

Get an Estimate Today
To expedite your service request, call 1-800-793-3737 or
submit the form below
Street sweeper service throughout the Denver, Colorado metro area including: