Vendor Partner - Speedway

The Speedway Business Fleet Card program, powered by WEX, is a regional fuel program providing both discounts and rebates on fuel purchases for 1-800-SWEEPER Member Partners. Discounted fuel can be purchased at all Speedway, Rich Oil or Gas America locations in a 15- state area. The map below (click to enlarge) shows the locations of Speedway, Rich Oil or Gas America within PA, DE, VA, NC, SC, GA, FL, TN, KY, OH, IN, MI, and IL.
To find out more or start taking advantage of this program, please call Andy Williams at 419‑276‑6665.
The Speedway Universal Fleet Card Program
The card can be used at any WEX accepting locations for any purchases
Fuel Discounts and Rebates will only be affective at Speedway locations

Fuel discount on all fuel purchases

Price is Cost Plus $0.09/gallon or Retail Minus $0.03/gallon, again, only at Speedway locations.

Rebate

$0.01/gallon for all fuel purchased at Speedway locations.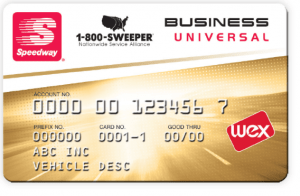 ---
For more information contact:
Andy Williams



419-276-6665