Your Dallas, Texas 1-800-SWEEPER Sweeping Services Partner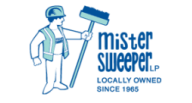 Mister Sweeper, LP
P.O. Box 560048
Dallas, TX 75356-0048
CALL US: 1-800-793-3737
Mister Sweeper has served the parking lot and street sweeping needs of the greater Dallas, Texas area since 1965. As the largest parking lot / paved-surface cleaning company in Texas with over 2,000 commercial, retail, parking garage, warehouse, apartment complex, and municipal clients, the trained sweeping professionals at Mister Sweeper strive to offer the most reliable and innovative cleaning services available. With more than 70 major over-the-road pieces of sweeping equipment equipped with GPS tracking, a complete mechanic shop, and full trash-transfer facilities, Mister Sweeper combines the equipment and personnel required to service Dallas, Texas parking lot and street sweeping needs, 24-7, 365 days a year. Mister Sweeper is certified by the North American Power Sweeping Association (NAPSA) and our commitment to professional, responsive, cost-effective sweeper service is unparalleled in the Dallas, Texas area.
SWEEPING SERVICES WE PROVIDE IN DALLAS AND SURROUNDING AREAS
Construction Sweeping for Dallas Area Contractors
HOA / Private Community Sweeping
Municipal Street Sweeping
Parking Garage Cleaning
Parking Lot Striping
Parking Lot Sweeping / Parking Garage Sweeping
Portering and Large Item Removal
Power Washing
Warehouse Sweeping and Scrubbing
Construction Sweeping
Local contractors in Dallas know 1-800-SWEEPER Partners provide reliable 24/7 Construction Sweeping Service, helping to meet the challenges of today's construction environment.  Construction sweeping needs are easily outsourced to 1-800-SWEEPER to keep your crew safe, productive and compliant at construction job sites near Dallas.
Residential Street Sweeping
Home Owner Associations and Street Superintendents throughout Dallas recognize the value of street sweeping. Dallas area residents know that Clean Streets are safe streets! Enhance property values and promote local community pride with the best street sweeping services in Dallas.
Municipal Street Sweeping
Dallas municipalities constantly look for new and innovative ways to stretch community tax dollars further and street superintendents are using more scrutiny when eyeing street sweeping costs throughout the Dallas region.  Maintaining a street sweeper is expensive and increased environmental mandates are prompting many in the Dallas area to turn to professional sweeping contractors for street sweeping services.
Parking Garage Sweeping
Not only do 1-800-SWEEPER Partners in Dallas provide scrubbing, sweeping and pressure washing services for parking lots, but for parking garages in Dallas as well.  To stay competitive and make a lasting impression, clean and safe environments are essential for attracting and maintaining quality customers and tenants. 
Parking Lot Sweeping
Dallas area shopping centers and office parks rely on maintaining a positive first impression with parking lot cleaning and parking garage sweeping services.  In today's challenging economic climate, maintaining clean and safe parking facilities is no longer just a good idea… it is a requirement.  Contact 1-800-SWEEPER for your parking lot sweeping near Dallas today!
Warehouse Scrubbing
Employee pride and care in workplaces, for the facilities throughout Dallas, is often tied to how well maintained you keep the working environment – including the floors.  Regularly scheduled sweeping and scrubbing of your Dallas area plant or warehouse floors keeps dust and dirt from irritating employees and interfering with electronic and mechanical equipment performance. 
Learn More
Find Local Power Sweeping Services Near You!
1-800-793-3737
Nationwide Coverage
24/7 Response & Emergency Services
Call us or send in a request to learn more about our cleaning services and locate a 1-800-SWEEPER company near X today!
Certifications and Affiliations

Get an Estimate Today
To expedite your service request, call 1-800-793-3737 or
submit the form below
Street sweeper service throughout the Dallas, Texas metro area including: